School News
admin on: School News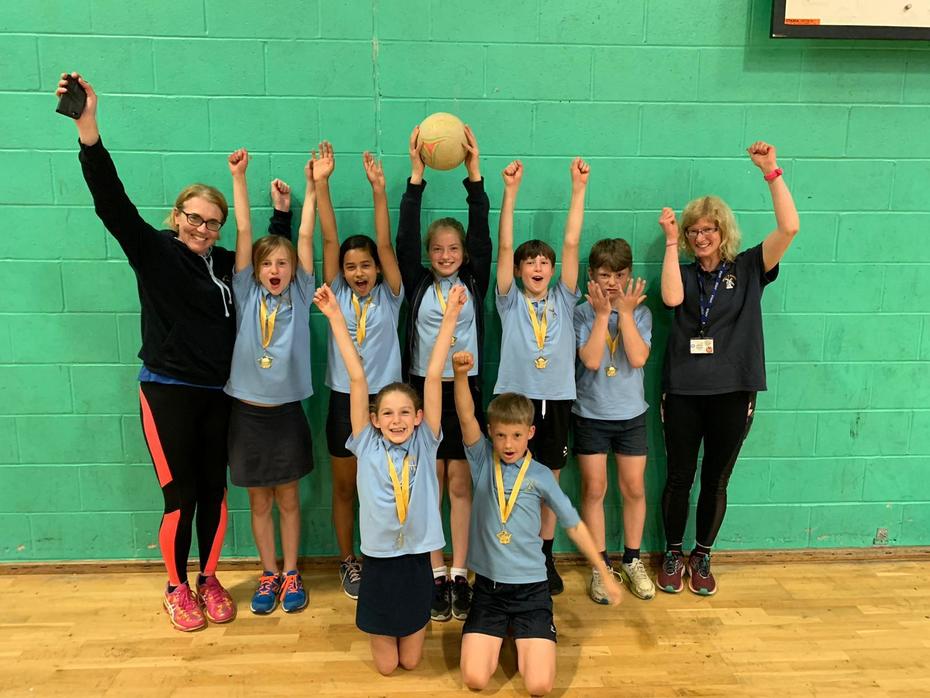 They've only gone and done the double! A few short weeks after qualifying for Level 3 County Championships in hockey, our Y6 pupils arrived at the Lv 2 Games Festival at Stoke Mandeville Stadium ready to take on the best of the Buckingham Partnership in netball.
They'd worked hard under the expert eye of our parent coach, Andrea Keegan, volunteering for extra practise sessions (having great fun at the same time, it must be said) and it had already been an exciting journey getting through the earlier rounds. On Wednesday, they took it up a notch: the team played 8 matches throughout the day, drawing two and winning all their others to finish in a fabulous 1st place. This means they go through to the Lv 3 County Championships, representing the Buckingham Schools' Partnership.
Mrs Tuffley was courtside, having been a regular presence at training, supporting players and coach: "Highlights were their mature attitudes and encouragement of one another, particularly as we had to follow the guidelines of rotating players each game so they didn't play in their preferred positions," she says. "Ayjah showed calm and consistent play; Francine was like a terrier in defence; Olly demonstrated great shooting; Sophia was nippy at getting into space; Annabel was courageous in every position; Freddy showed superb marking, heaping pressure on the opposition; and Sam's accuracy when shooting gave the team a huge morale boost in the opening game."
It is an outstanding result in what is shaping up to be Brill's best-ever year for sport. We are delighted for Mrs Keegan, Brill's very own 'netball mum', who has supported and encouraged all our players over many months: "I am so proud of them all," she says. "There were lots of goals across the day and they showed great communication and teamwork." We owe Andrea huge thanks for all her hard work, and our appreciation also goes to the Y6 parents who have routinely helped out at practise sessions – thank you, Mrs Soden and Mrs Tuffley. Congratulations to the team: Ayjah S, Annabel W, Francine E, Freddy H, Olly C, Sam G-H and Sophia H-C.
---