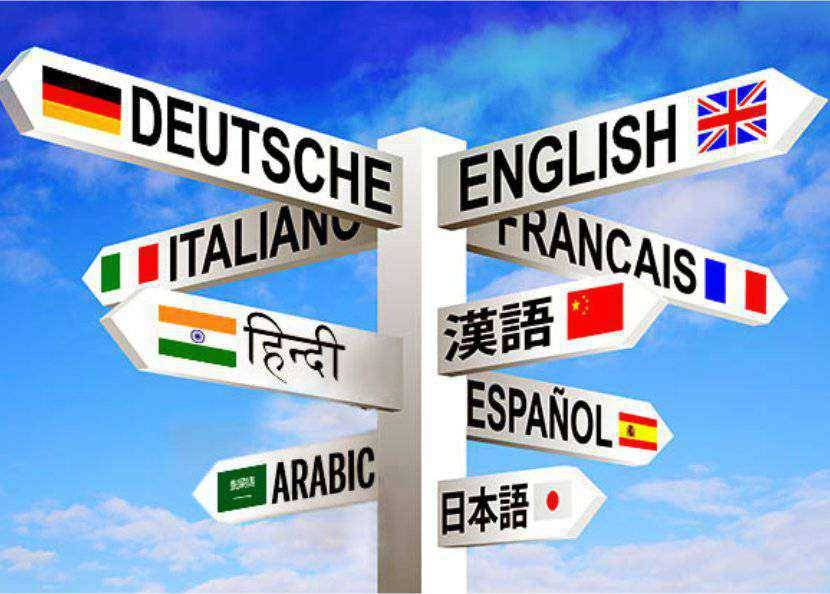 .
Modern Foreign Languages
The teaching of MFL ensures " ... a liberation from insularity and provides an opening to other cultures. A high-quality languages education should foster pupils' curiosity and deepen their understanding of the world." National Curriculum Programme of Study.
INTENT
At Brill School we believe that, in line with our vision of a "Brill Child", a high-quality MFL curriculum will enrich their education. It fosters children's curiosity and thirst for knowledge. The teaching of MFL enables children to express their ideas and thoughts in another language and to understand and respond in both the spoken and written language. It also provides exciting opportunities for them to use the language for practical purposes and to rise to the challenge that this presents. We believe that learning a new language helps children develop confidence and resilience as well as adding a depth and breadth to the whole school curriculum.
The learning of languages provides a valuable educational, social and cultural experience for all children, regardless of ability. Children develop communication and literacy skills that lay the foundation for future language learning.
Learning languages raises awareness of the multilingual and multicultural world and introduces an international dimension to the children's learning thus giving them an insight into their own culture and those of others. It ensures diversity though deepening their understanding of the world and widening their horizons.
The learning of French and Spanish provides a medium for cross-curricular links and the reinforcement of the knowledge, skills and understanding developed in other subjects.
IMPLEMENTATION
Although the teaching of Modern Foreign Languages is only statutory in the KS2 curriculum, we at Brill School believe that preparing the children in KS1 will have a positive effect on their confidence and enable them to become successful linguists.
MFL at Brill School:
Ensures every child has the opportunity to study a foreign language; developing their interest in the culture of other nations, communities and beliefs.

Ensures children have access to high-quality, engagingteaching and learning opportunities.
Ensures children develop an increased wider cultural understanding through our enrichedand varied MFL curriculum.

The curriculum is designed in line with the National Curriculum and the skills therein : Listening, Speaking, Reading, Writing and Cultural Understanding.

Languages are taught by a specialist MFL teacher and supported by class teachers and TAs using " Word of the Week" outside of MFL lessons.
A multi-sensory and kinaesthetic approach to teaching is used with a physical and outdoor element introduced wherever possible as an aid to understanding and retention. Lessons are enjoyable, non-threatening with success built in at every level in order that the children develop a positive attitude to their learning. Confidence and self-esteem are built through positive reinforcement for any contribution they make, however tentative. Higher ability and bilingual children are given extension activities where appropriate.
IMPACT
Our MFL curriculum is engaging and accessible to all learners, well-resourced and planned to build in progression. In addition, we measure the impact of our curriculum through:
Pupil discussions about their learning

A robust marking scheme with which the children are familiar

Clear learning objectives set out and progress recorded on " What I will Learn " sheets for each new topic.

Monitoring and reflection

against

subject-specific skills defined in each year of study.

Children apply their knowledge of language to other areas of the curriculum.

Children apply their cultural understanding and tolerance across society and cultures.
MFL BLOG
office on: MFL BLOG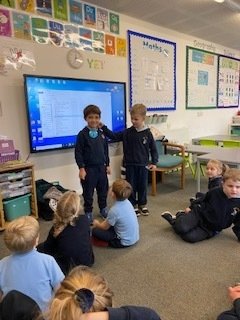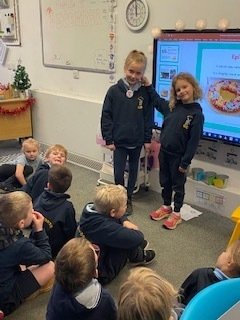 We celebrated 2 KS1 birthdays in the Spanish way this week. Cumpleanos Feliz to Arthur and Connie! In Spain they sing "Happy Birthday" and then a friend gently pulls the earlobe ( the number of years old they are ) of the birthday boy or girl while the rest of us count. It's a typically Spanish tradition which we all enjoy in Brill School.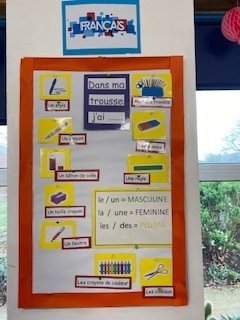 Year 3 are learning all about masculine / feminine nouns in French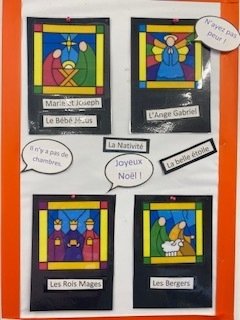 Year 6 are busy practising their French Nativity play and Year 5 are helping them sing the beautiful carol
Here is a French Christmas song link for you all to enjoy. Year R loved it!
https://www.youtube.com/watch?v=i9TWQLl2zvQ
---
Brill School's Year 6 Trip to France 2023...
What a trip! We are extremely proud of all of the Year 6 children who embraced all aspects of the trip to France,they showed courage and resilience and were great ambassadors for their school and country.
May 2023
Year 4's Whacky French Sentences ...
Year 4 used bilingual dictionaries to look up words to form a whacky French sentence. They used prepositions to help make them even more extraordinary!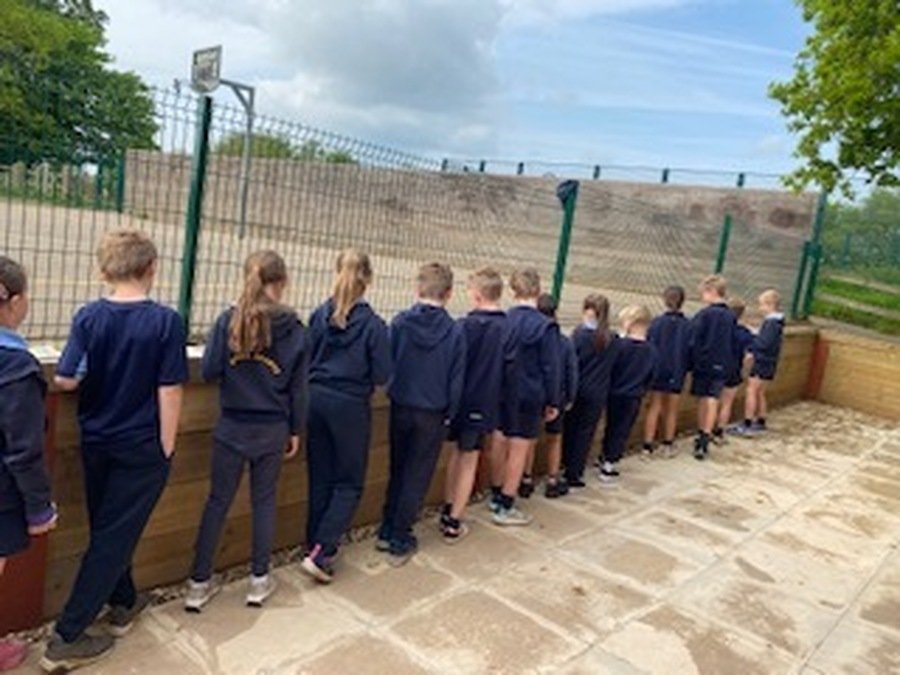 The class then had a good look at them all ( the wall came in very handy! ) and voted....
Year 3 Have written their very own French version of "The Very Hungry Caterpillar"
March, 2023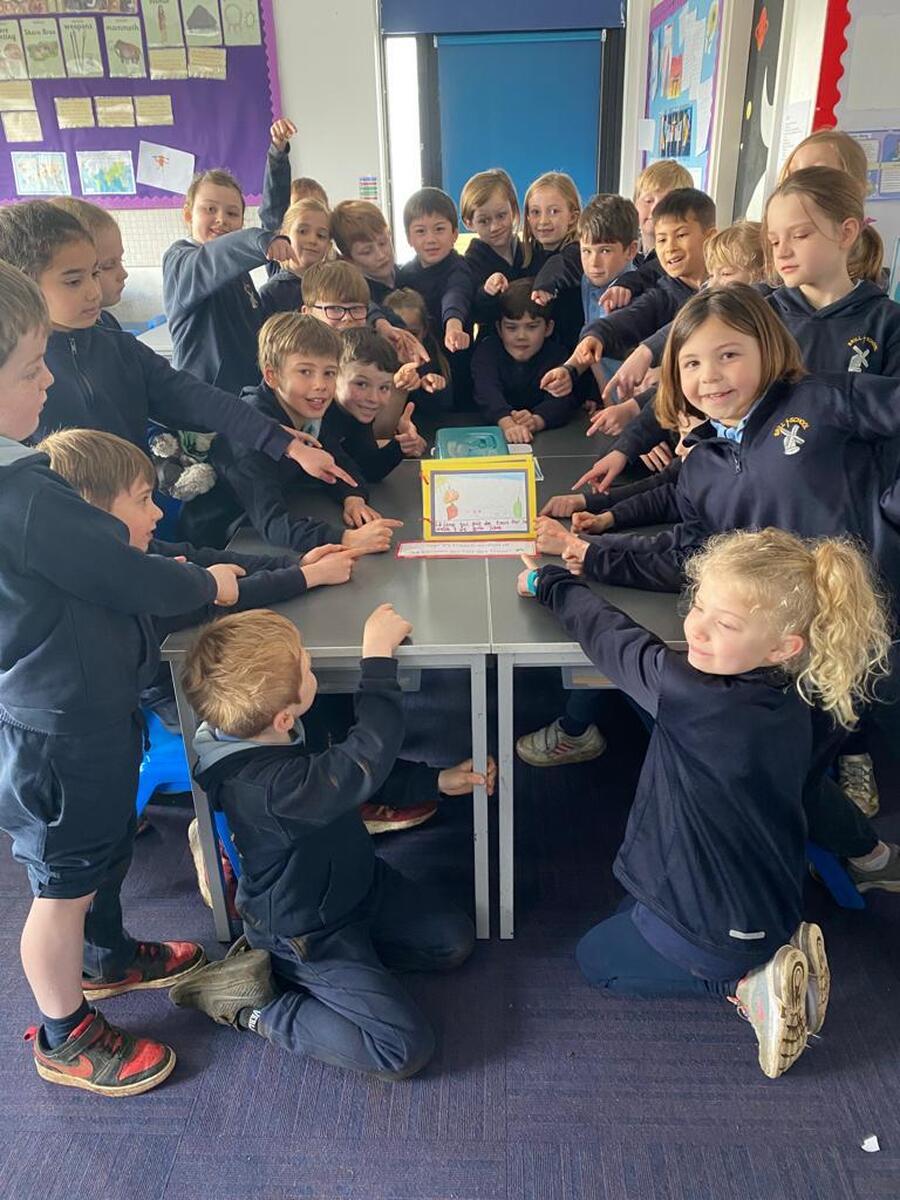 After reading "La Chenille qui fait des Trous", Year 3 decided to use the story to make up their own version. They used different fruits and lots of different foods. They wrote about an egg which hatched into a maggot who eventually turned into a beautiful DRAGONFLY (une superbe libellule!)
Mrs White visited the class and heard the new story being read. She was extremely impressed, and Class 3 were brimming with pride.
Year 6 French Nativity Play
December 13th, 2022
Year 6 excelled themselves on Monday afternoon with a fantastic performance of the Nativity in French. They were word perfect, and showed great courage as they had to fill in for their absent classmates who were ill on the day. Thank you to Year 5 pupils who did a splendid job as the back-up choir. The carol, "Etoile de Noel" sounded beautiful.
It was a pleasure to see the faces of the proud parents (and teachers!) and there were definitely a couple of "wow"s as the younger children watched in awe.
All in all a BRILLIANT performance, Year 6. Bravo!!
Les Phrases Extraordinaires de la Classe 5
October, 2022
Year 5 have been working hard to learn some French prepositions and how to use them in a sentence. The final task of the unit was to look up new words using an online dictionary and a traditional dictionary in order to construct an "extraordinary" sentence. They did a fantastic job! Here are the results which will be displayed in the classroom, but we thought everyone should be able to see and admire them.
YEAR 3'S FRENCH POEM
September 22nd 2022
Ecoutez! C'est fantastique!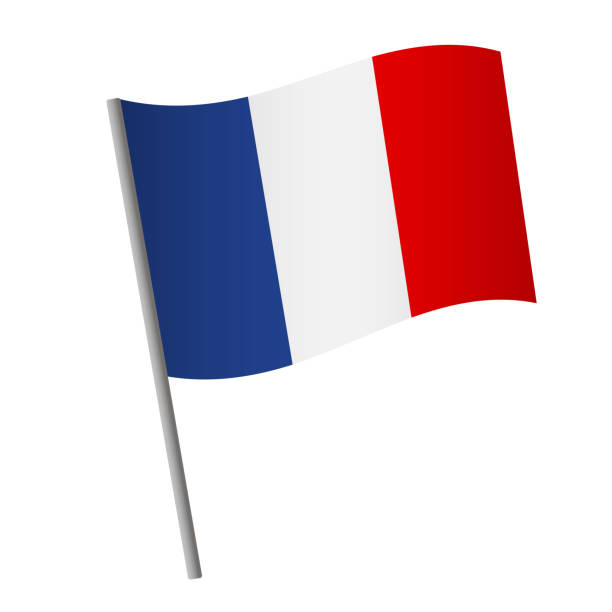 Year 6 French Day
le 14 juillet, 2022
What a day Year 6 had today!
A treasure hunt around the village, a history lesson, buying lunch in a French market, eating delicious French food and finally enjoying a closely fought boules competition.
Thank you to all the adults involved for making it happen and all the children for embracing it with such enthusiasm. We hope it helped ease the disappointment of the cancelled trip to France in May, and Year 6 will have made some great memories.
Year 2 Spanish Food Tasting
July 13th, 2022
Year 2 showed great enthusiasm as they tried some traditional Spanish foods. The tortilla was a great hit, the ice cold gazpacho was welcome in the heat, and the children were amazed at how thin the jamon was sliced, but it was the the churros con chocolate that stole the show!
Year R's French Song about growing tomatoes
June 27th, 2022
Year 5's French Art Work
May 2022
We are all so excited to be doing a joint French /Art project in Year 5. The children have planned their Delaunay style pictures in art lessons and will soon be describing them in French. It's been a great learning experience, and Year 5 have given it their all in both Art and French lessons. Merci, les enfants! Bravo!
KS1 Flamenco Dancing
May 11th 2022
Years 1 and 2 have been having lots of fun learning parts of the body in Spanish, and what better way to show off their knowledge than to sing a song and dance flamenco at the same time?
Year 3's French Book.
Year 3 have been reading " La Chenille qui fait des Trous" ( The French version of " The Very Hungry Caterpillar " ) They then set about writing and illustrating one of their own but with different vocabulary. They chose to write a story about a very hungry turtle who started out life as an egg on a beach and ended up as a beautiful giant turtle in the ocean. April 4th, 2022
Poisson d'avril : April 1st 2022
Every year on April 1st in France, children try and stick paper fish on the backs of their friends and teachers without them realising! We thought we would adopt this tradition at Brill School today.
During our collective worship in the hall, the children were shown the significance of Ichthus ( the Ancient Greek symbol of a fish first used by Christians during Roman times and still used today) and the French tradition of sticking fish on each other's backs was explained.
Finally, at break time, it was time for the children to try it out for themselves. As you can see from the photos, great fun was had! Thank you to Mrs Ardley for sharing the idea, it is hoped that this will become an annual event!
Year 4's French "Guess Who" Morning
What a brilliant morning Year 4 had playing "Guess Who" in French, eating croissants and drinking chocolat chaud! All their hard work and preparation paid off. They all felt very proud of themselves, and so they should!
Bravo, Year 4 !
Year 6 French Day June 2021
Year 4 Guess Who April 2021
HOW TO MAKE A SPANISH OMELETTE
( TORTILLA )
Follow the 2 short videos below to see how the Spanish make their famous tortillas.
You will need:
1 small onion finely copped
2 potatoes peeled and sliced thinly
5 eggs
olive oil to cover the bottom of a small frying pan
a good pinch of salt.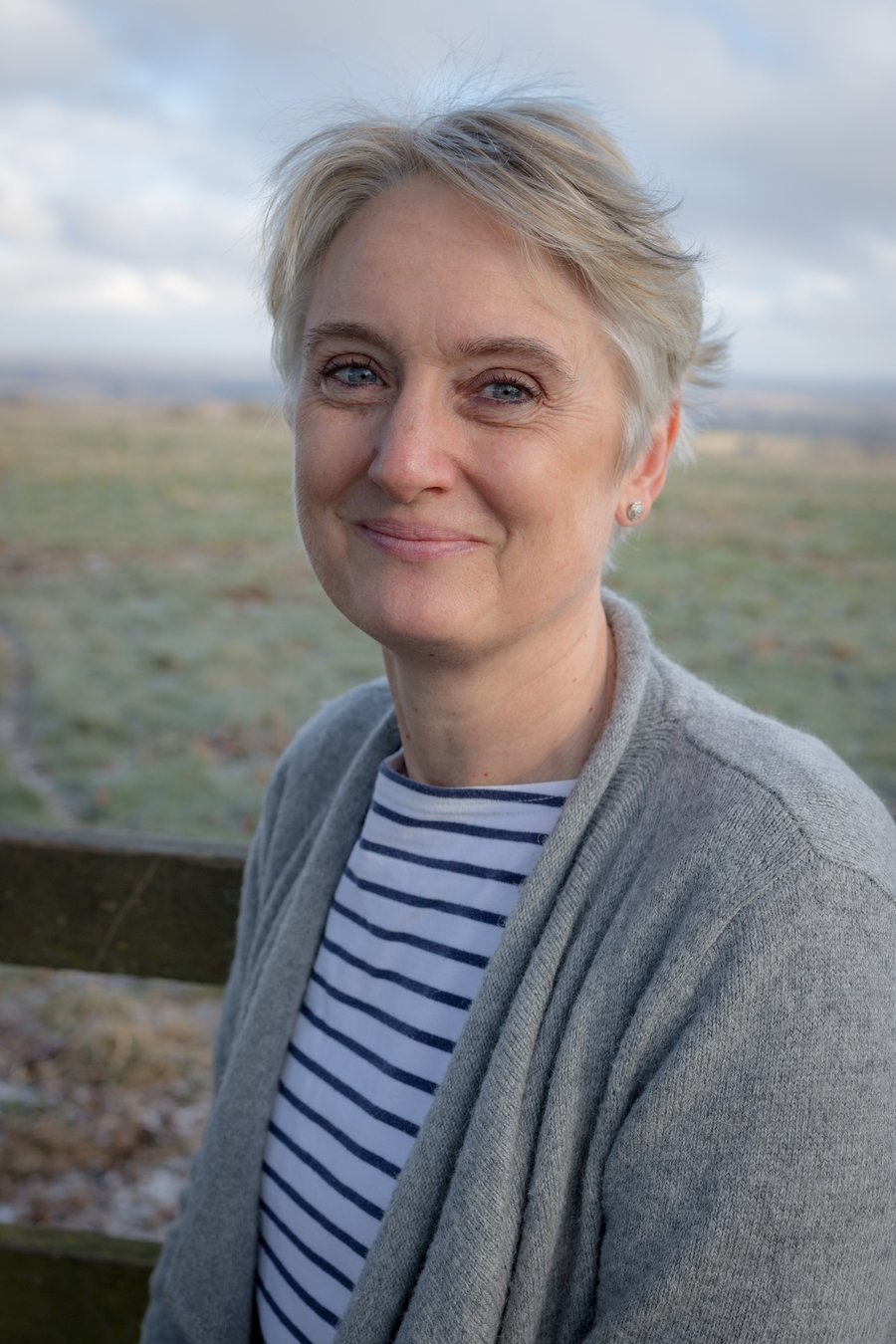 Madame / Senora Tate
e.tate@brillschool.org.uk
MFL Progression of Skills
MFL Curriculum Overview by Year Group
Attainment grades explained
"Can I show you in my literacy book that I used prepositions in English AND in French?" - Year 4 child.
"I loved the market, it was wonderful to have your own freedom and it helped me feel confident with my French " - Year 6 child after our trip to France.
"Thank you so much ..... Our daughter has loved her first introduction to French " - Year R parents.
"I never knew you could drink hot chocolate out of a bowl !" - Year 1 child after the French breakfast
"I am loving languages at my new school , but I still can't roll my r's!! .....Doing French and Spanish at Brill means that I find languages easier than most people in my class. I also heard that D's French teacher says he has a natural accent! "- Former Brill pupil now in Year 8.