IMPORTANT INFORMATION - Coronavirus (Covid-19) Update
We are delighted to share news of the outcome from our recent Ofsted visit. Many highlights are included in the letter on our Ofsted tab!
On Tuesday,17th December 2019, the whole school shared their homework projects, first with their own class and then with another year group as children visited different parts of the school. Staff were so impressed with the effort on show; our pupils have delved deeply into their topics, shown independent study skills, including wider reading, and demonstrated their knowledge with great enthusiasm. Well done, everyone!
Parent Survey 2018
Posted: Dec 7, 2018 by: nphipps on: Brill Highlights
Thank you to all the parents who took the time to fill in our survey. We had a great response. Over 70 parents replied and 97% would recommend our school!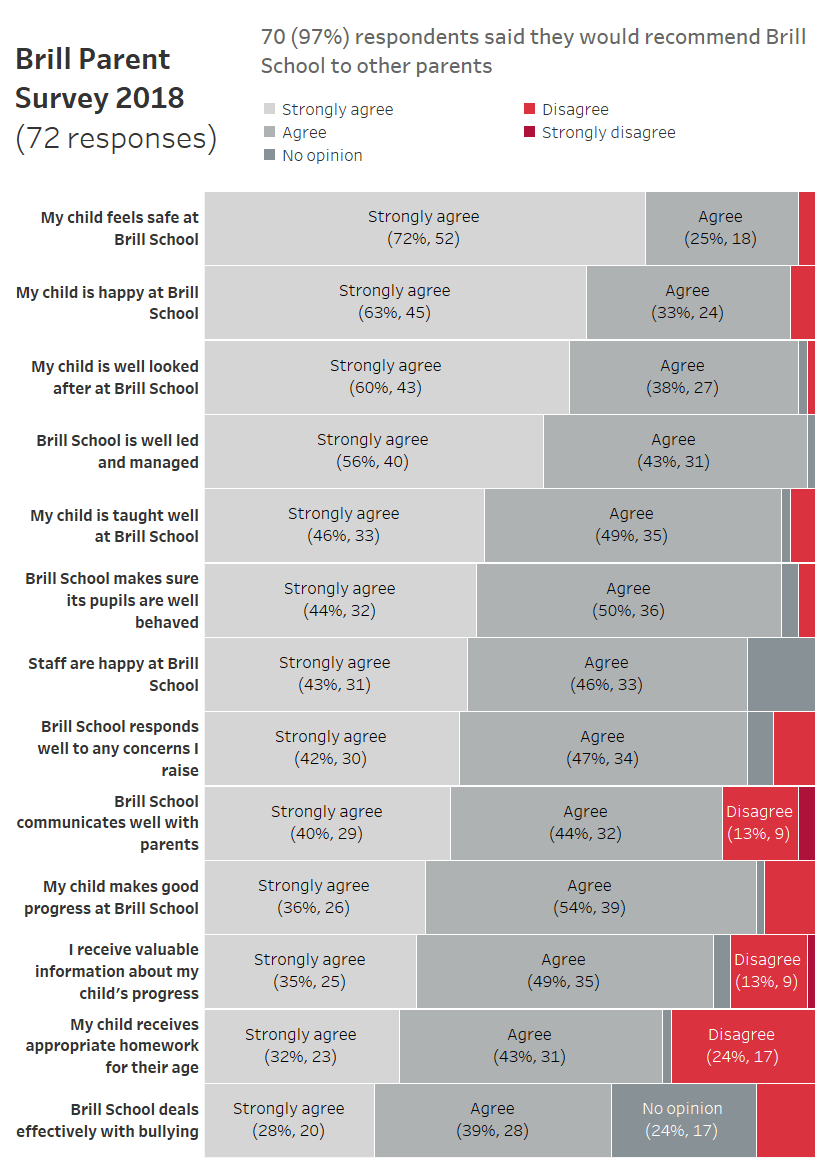 Your answers indicate that almost all of you are very happy with most of what we do. We are particularly pleased about the overwhelmingly positive response to questions about how happy, safe and well taught you feel your children are.
We had positive comments about changes made last year including:
Improvements in communication, especially the online booking system

The daily mile - you would like us to keep it going!

The improved safety of the school site

Regular guided reading
It's also very helpful to hear where you think we could improve. Four main themes came out of the suggestions this year:
1) Communication
Last year we made lots of improvements and you liked these. Some of you would like there to be fewer emails. We're trying to work out how to reduce these and communicate more using the website.
Some of you asked for more notice of events, particularly those that involve transporting children and anything with fancy dress! We have already sent you all the fancy dress dates for the year and staff are timetabling other events as early as they can. Some sports fixtures and other events are only organised with short notice but we hope you understand we want the children to be able to take part in as many as possible and do our best to tell you as soon as we know dates.
2) Children's progress
We hope you'll think the school's results speak for themselves, but we are going further to ensure children make rapid progress in core subjects. Classes will now be doing maths, guided reading, literacy and wizard maths in the mornings and the management team are reviewing every child's progress in science with their teachers half termly in the same way as we do for maths and literacy.
A few parents wanted to be sure their children were being stretched enough. Growth mindset is a big focus this year and will help pupils challenge themselves whatever level they are working at. To hear more, read about our priorities for 2018-2019.
Some parents want to understand their child's progress better. We had very positive feedback about the new format for parents' evening last year. This year we'll look at how we explain the way progress is communicated and make sure it's clear and useful.
3) Homework
This is a tricky one. 24% of respondents don't feel their children get age appropriate homework. What's difficult is that people disagree on whether it's too much or too little and on what type of homework would be best! We're having a think about homework and we plan a parent information evening and some other communications to explain our approach and how best to help children. Look out for a request from your parent council rep to tell us what you most want to know about.
4) Extra-curricular clubs and events
We had lots of positive feedback about the number of clubs and extracurricular events on offer.
Some of you want to understand more about how children are selected and how we make sure all get a fair chance to be involved. Staff try very hard to help all children take part in activities and keep a record of who attends what. We agree we could be clearer about how and why we select pupils in different ways for different events so children and parents understand. You'll soon get some information on the principles we use to select or encourage pupils to take part in different sports events.
You also asked us to consider more clubs like choir as well as all the sports clubs. We have listened and drama club is starting this term. Maths club is on the way and choir will be back. Can you help with this? Do you have a passion you could share with the children in a lunchtime or after school club? Chess? Gardening? Knitting?
Enormous thanks to all of you who took part. If you haven't seen the issue you raised in this summary, please be reassured we have taken account of all your comments.
Keep telling us what you think: your feedback and willingness to come and talk to us straight away with problems helps us get better. You can always talk to staff or to governors. You can also contact your parent council representative or even leave a comment on our news posts!
Our Year 1 Safety Spokespeople Go Live!