18/07/2023
SPORTS DAY 2023
10/07/2023
This week the children have been battling for house points!
They have all been joining in with Cricket, Swimming, Netball and Gymnastics to score points for their houses!
All these points will be added into the total on sports day, which will now be on the 18th July.
06/07/2023
On Thursday 6th July, Year 2 enjoyed trying some traditional Spanish foods. They were able to say in Spanish if they liked them or not.
The wafer thin jamón, the tasty Manchego ewe's milk cheese and the spicy chorizo salami were all popular, but it was the churros dipped in chocolate sauce that won the day!
04/07/2023
Setting off amidst the damp drizzle our fearless foresters embraced the morning challenges!
After hugging our favourite trees on the field, we attempted to quietly sneak past Miss Cruickshank's dogs, who love to bark out the window wishing us a fun session.
On arrival at forest school, we enjoyed the sound of the raindrops on the trees and the birds singing to welcome us. There were several excellent suggestions as to the type of bird it was - Mrs Chisholm recorded its fine voice to see who was correct.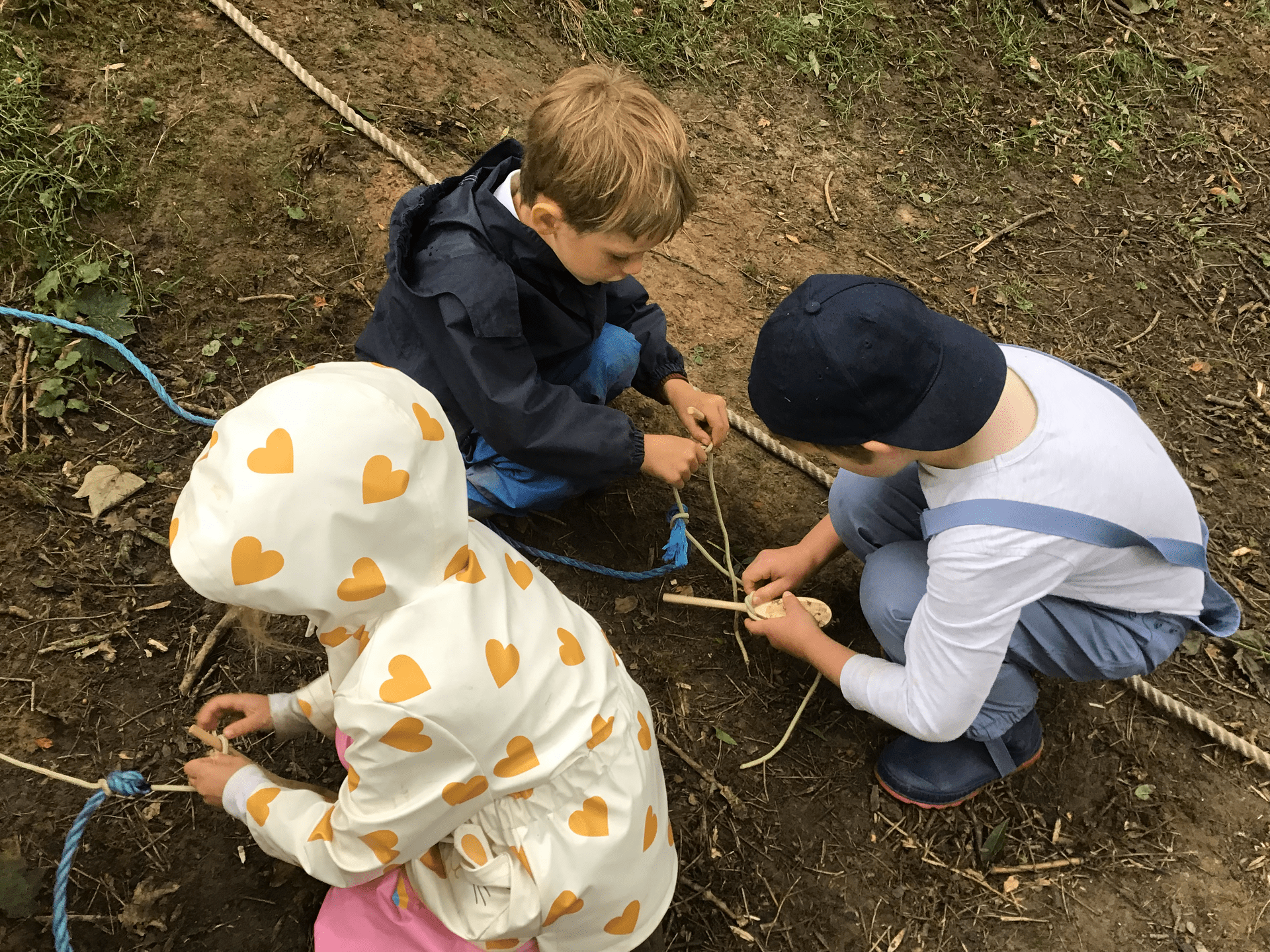 Before long everyone was focused on our mission learning to untie and tie knots. Soon we'd embarked on rescuing the poor spoons (from the traction man story), who had fallen off the kitchen cliff!
All secret agents showed determination, skill and teamwork helping one another to abseil down the kitchen cliff.
The journey home to headquarters was made in record time, with all secret agents commended for their efforts with a medal.
MISSION COMPLETED!
30/06/2023
The chicks in Year R have been born, their names are yet to be decided but keep your eyes peeled on the Year R blog for chick updates!
27/06/2023
Group 1 were on a special mission this week!
As secret agents, we had been given a taste to rescue the spoons who had fallen off the kitchen cliff - as Traction man had done in our class story.
After intensive training in knot tying we were able to throw a rope from the top of the cliff (steep bank - panic not parents!), tie a simple knot round our terrified spoons and hoist them to safety! Our efforts were rewarded with a medal for our bravery and teamwork on our speedy return to HQ!
MISSION COMPLETED!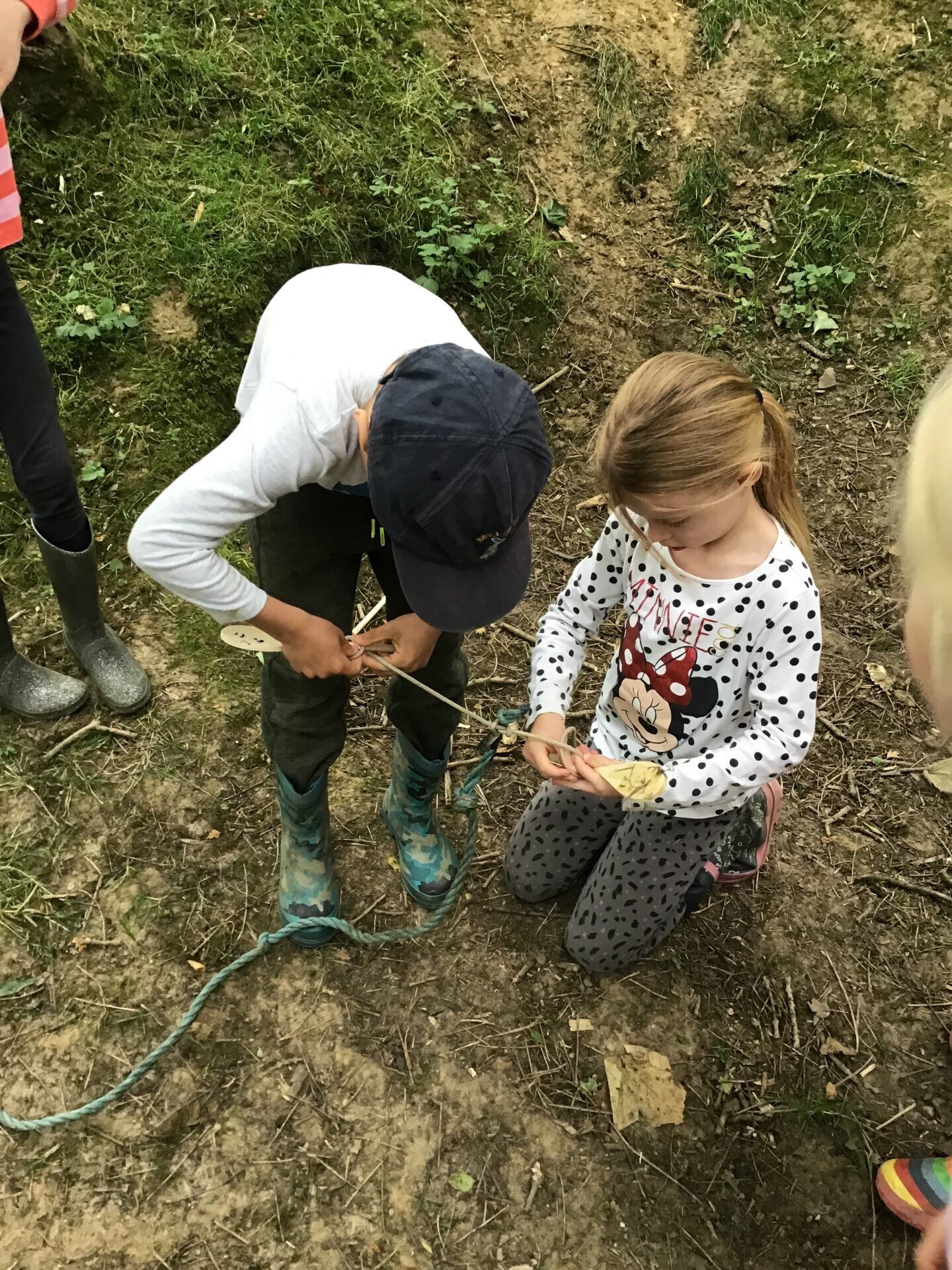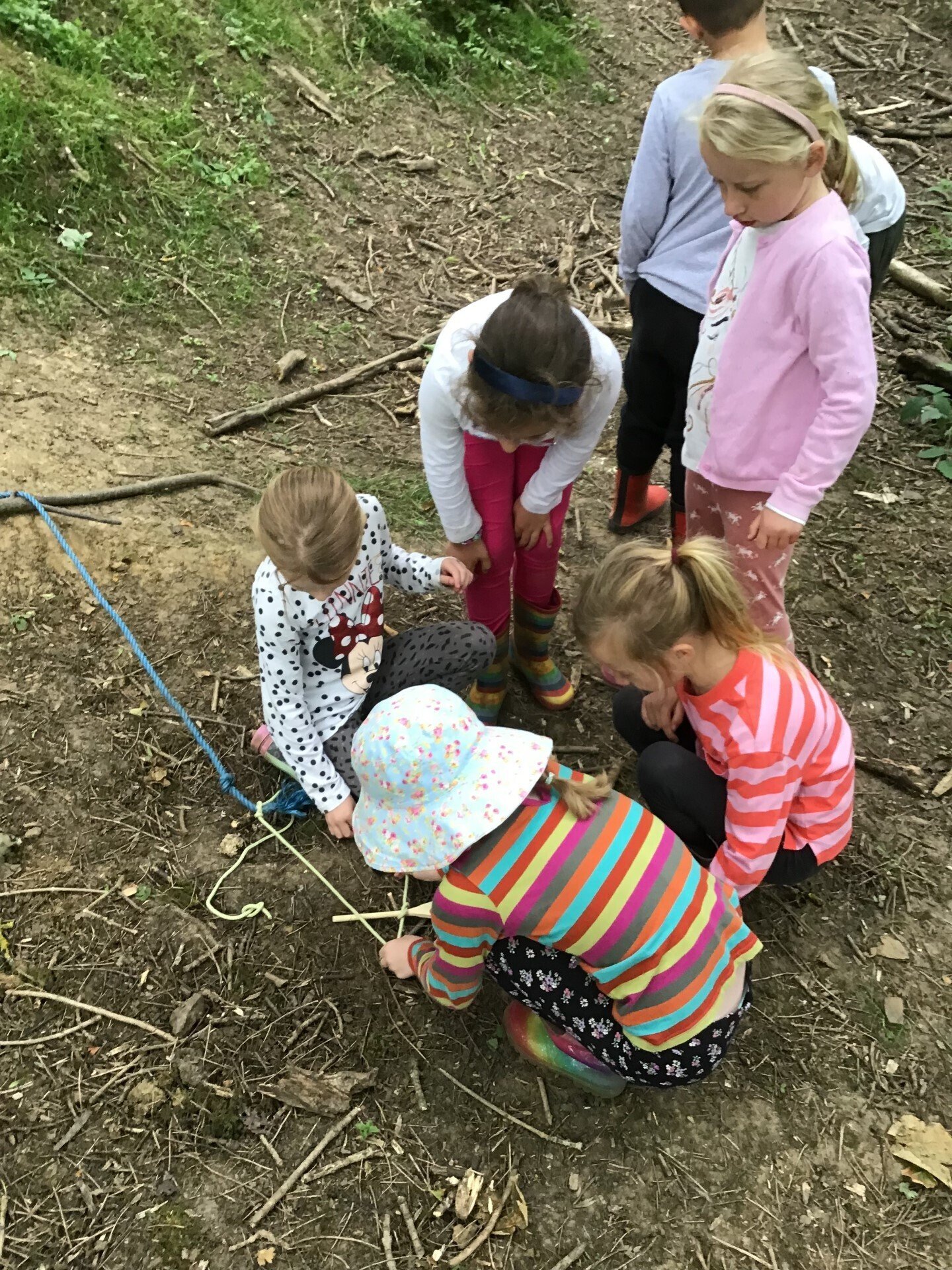 27/06/2023
Children at swimming were AMAZING. we came second by 2 points, but we won the year group individual races!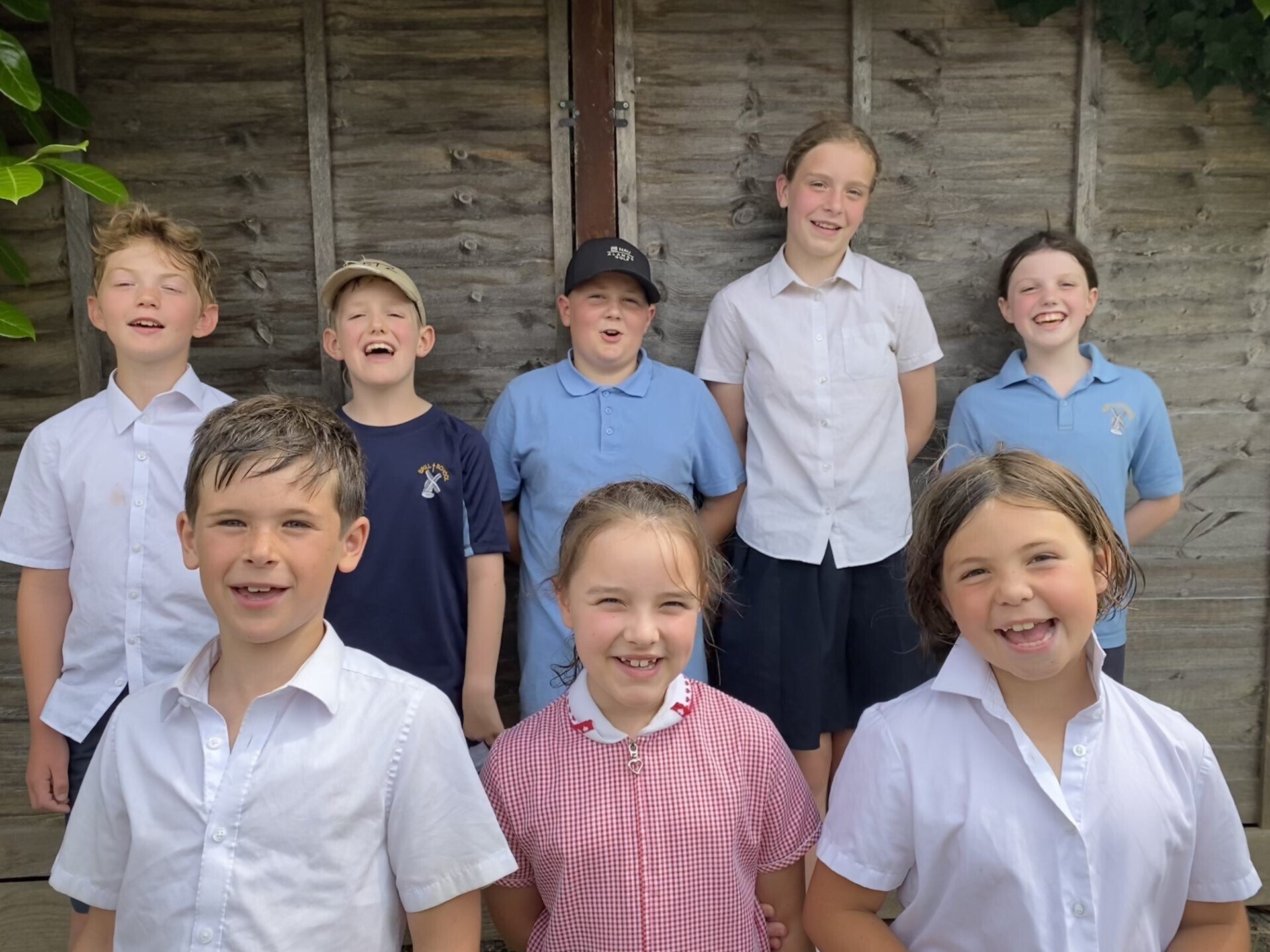 23/06/2023
Year 4 used their bodies to create 4 types of triangle; equilateral, right-angled, isosceles and scalene. They had to use the main features of each triangle and show these with their bodily creations!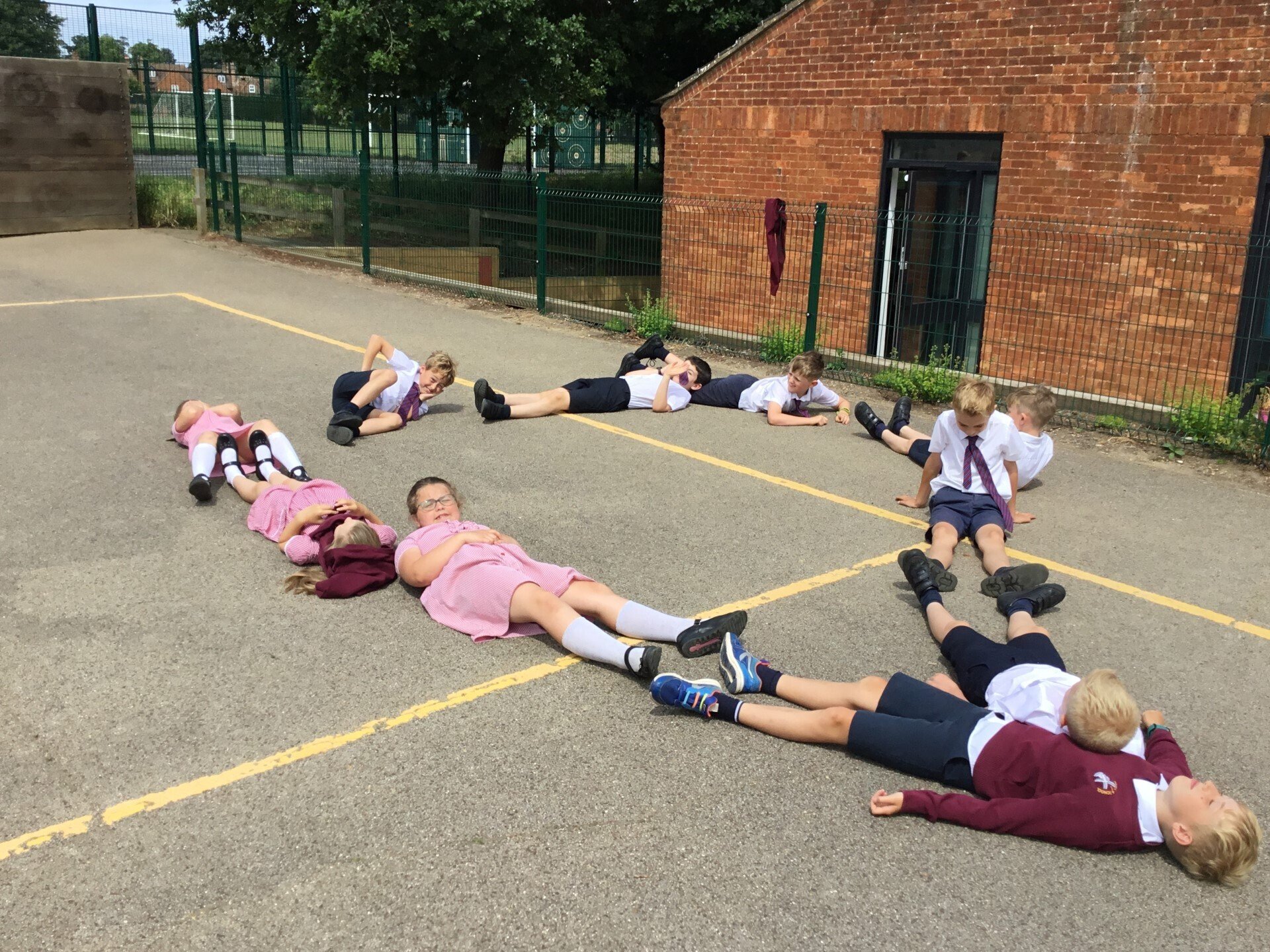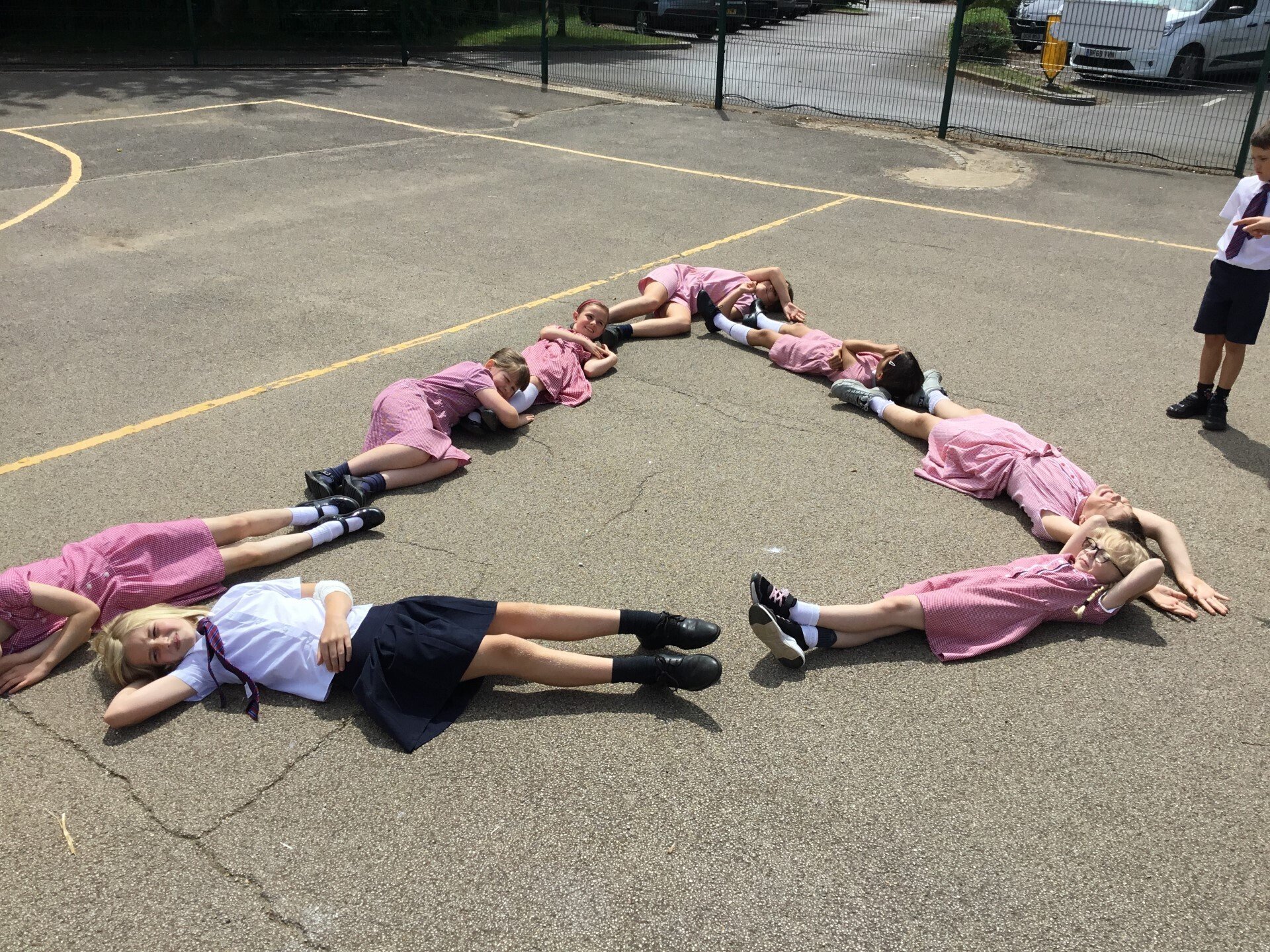 21/06/2023
On Wednesday, 6 pupils from year 5 and 6 went up against four other schools for Quadkids.
The boys won their competition with 18 points and the girls also won with 17 points despite only having only 2 girls!
The children all agreed it was really fun and enjoyed it very much!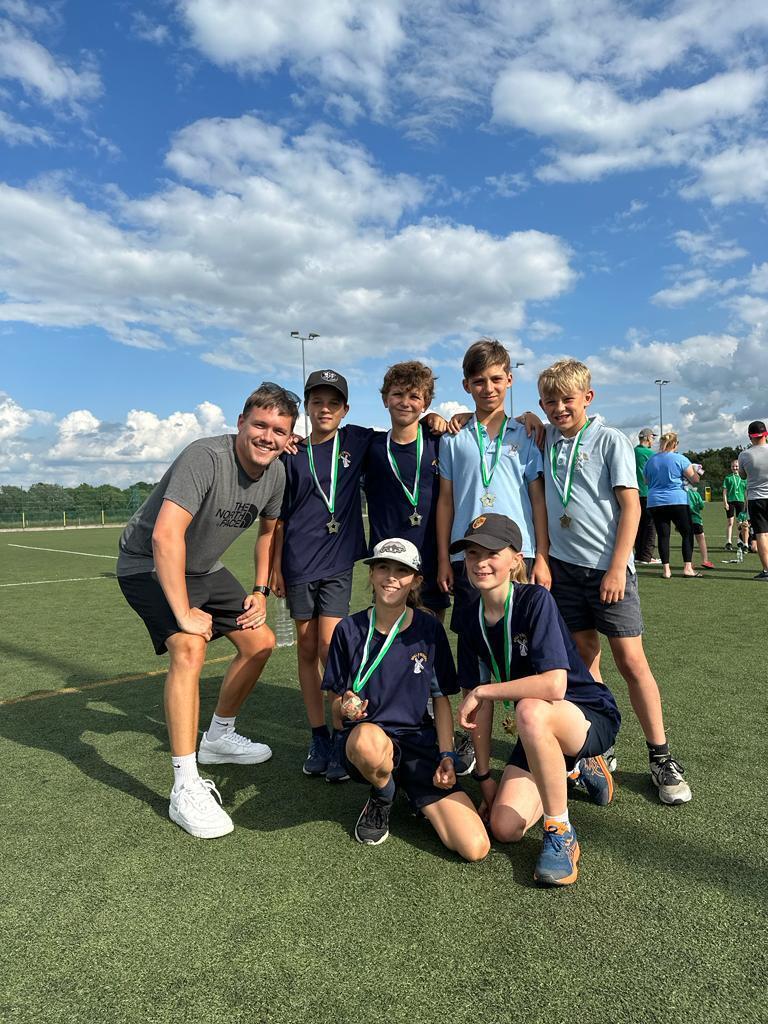 20/06/2023
On Tuesday, we played in the semi-finals against Bedgrove.
We battled it out until the last second and we won 3-1! We are now in the finals and will continue to battle to the end!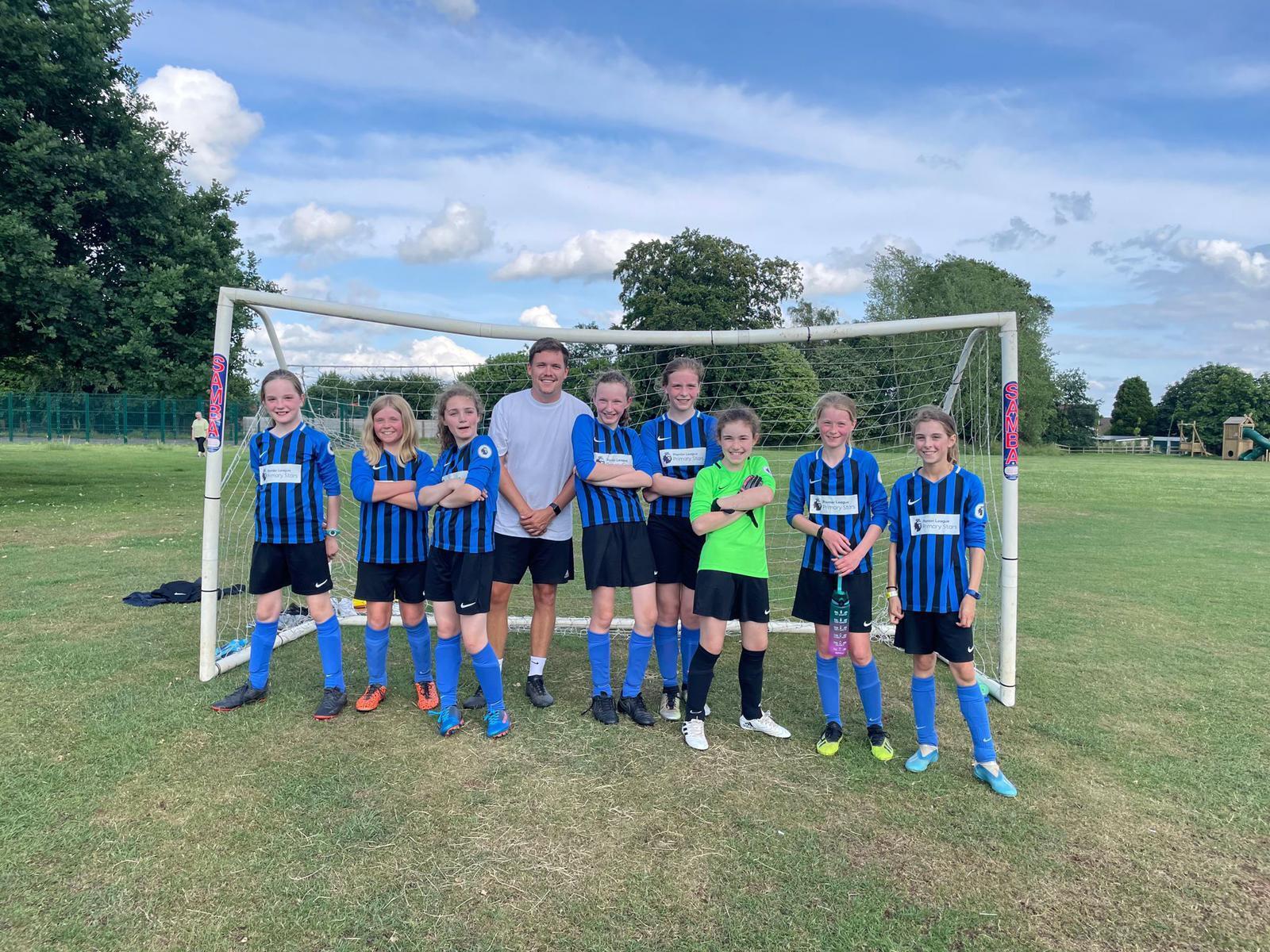 20/06/2023
Forest School
Despite having a wet start and threat of thunder, out intrepid explorers donned in wellies and waterproofs made their way to a rather damp forest school.
Due to the terrain, our ropes were used to help us climb around the steep site! The teamwork and determination to reach the top was amazing!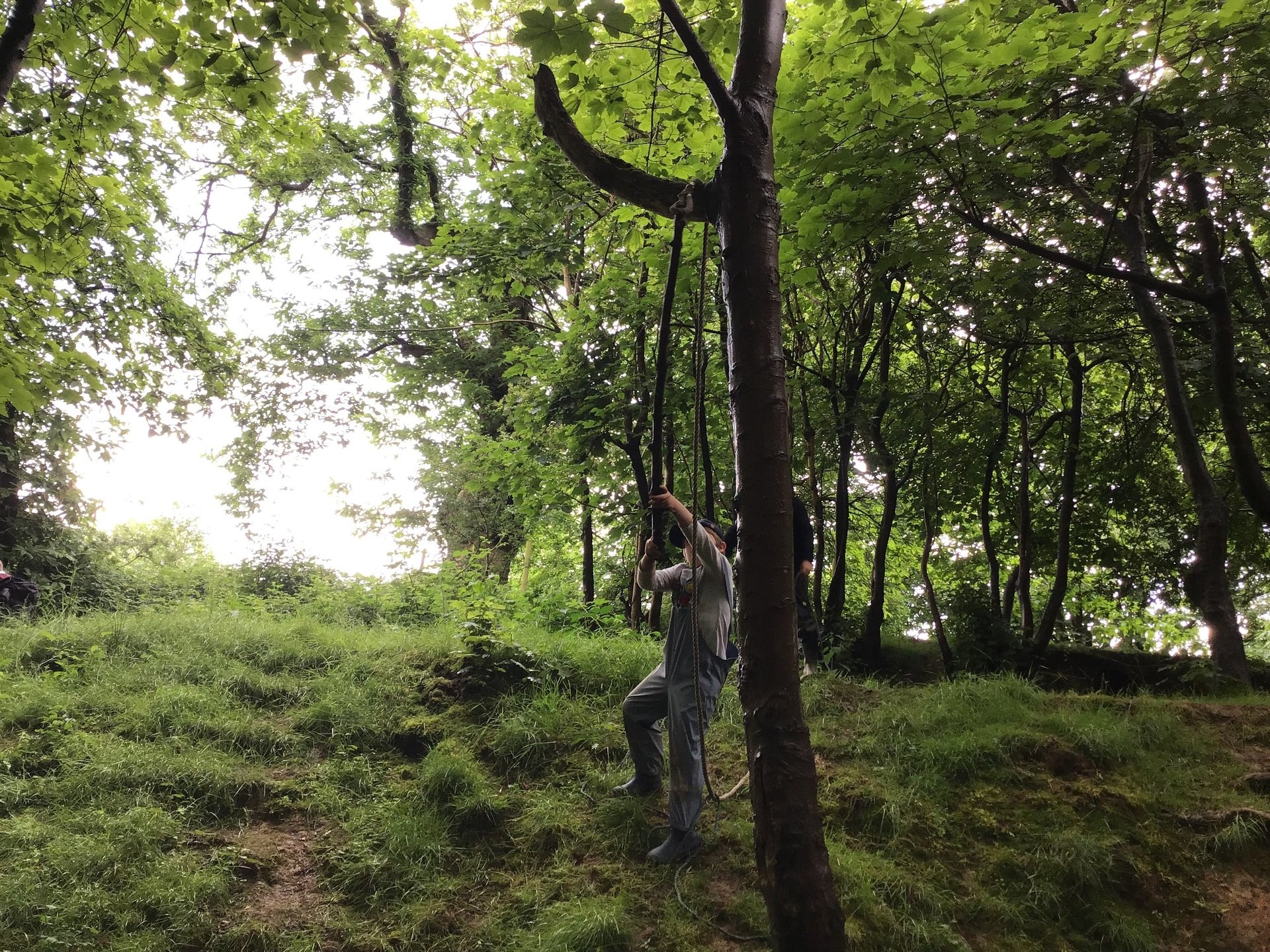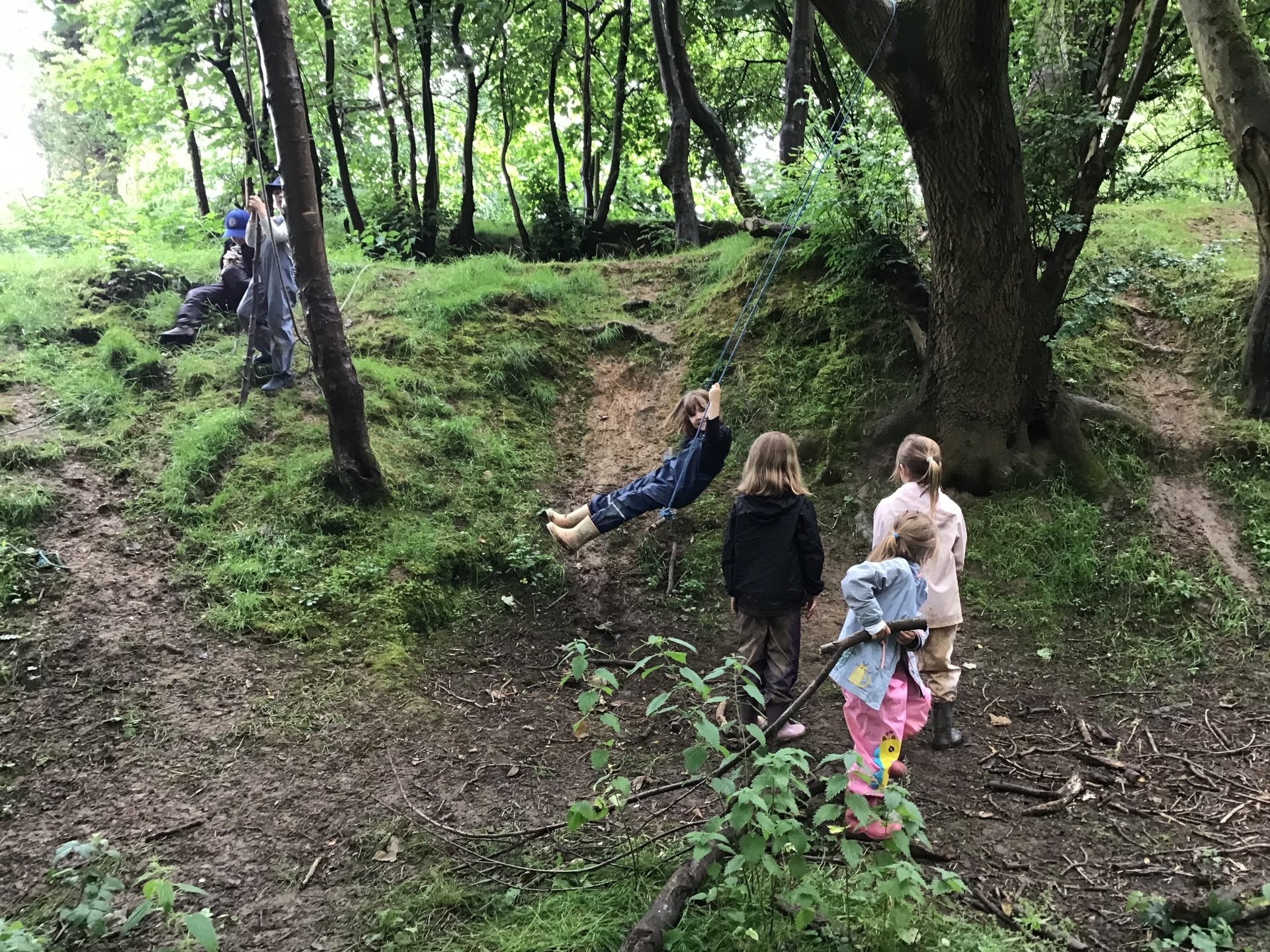 We attempted to beat last week's longest flight time by finding natural materials that float to the ground and see which one was the slowest, however we soon realised (with our science hats on!) that damp objects weren't effective in the air.
Our best flight time was Sam's at 2 seconds and 24 millisecond's, which we compared to Sonny's 7.5 seconds last week!
16/06/2023
Western dress up day!
The children had an brilliant day raising money for the PTA by dressing up in a western fashion!
Mrs White choreographed an amazing wake and shake dance, that even the parents joined in with!
15/06/2023
Year 2 enjoyed learning about where some traditional Spanish foods com from in Spain.
We drew the outline of Spain on the playground and the children had to decide where the cities were on the map.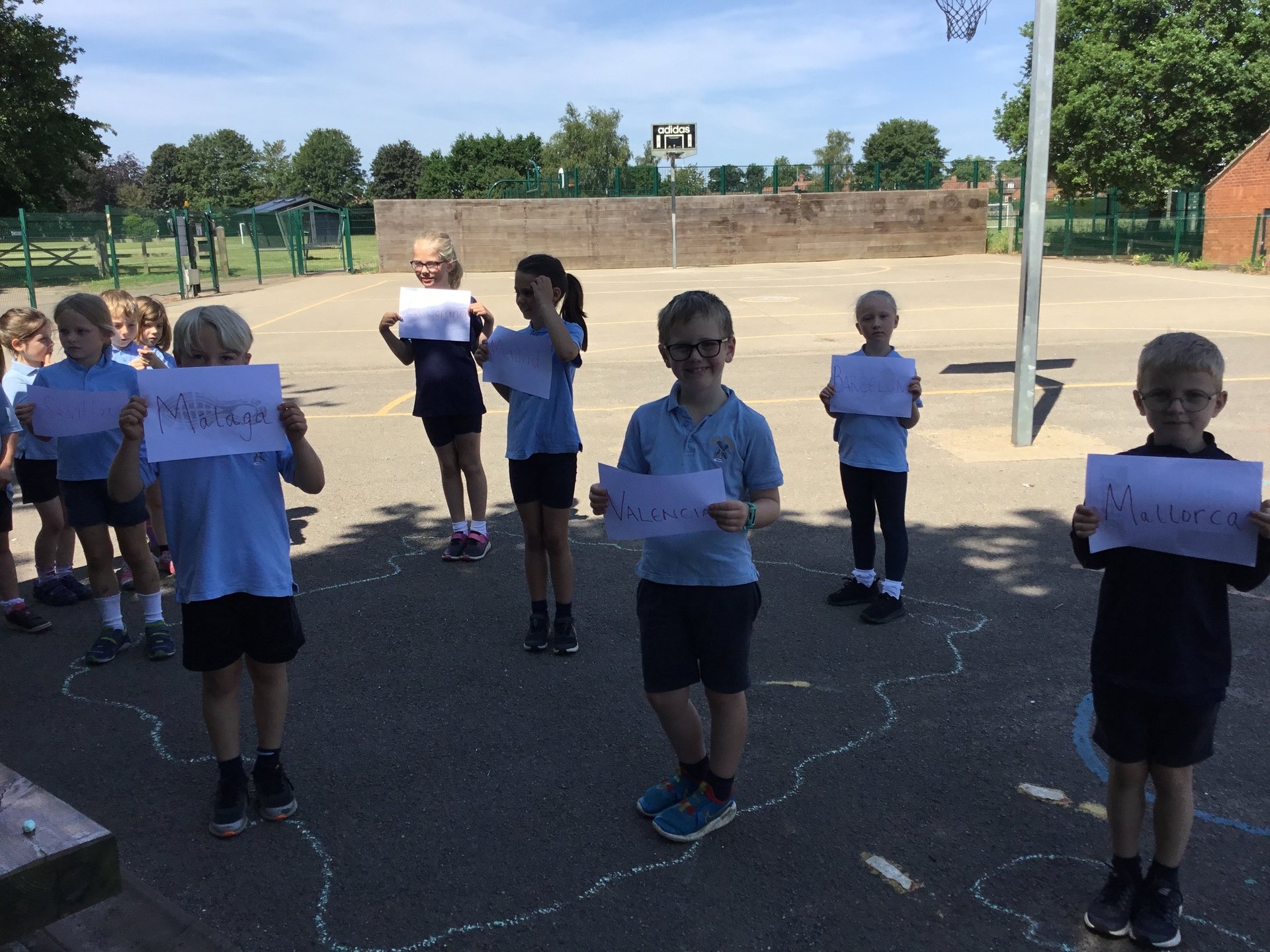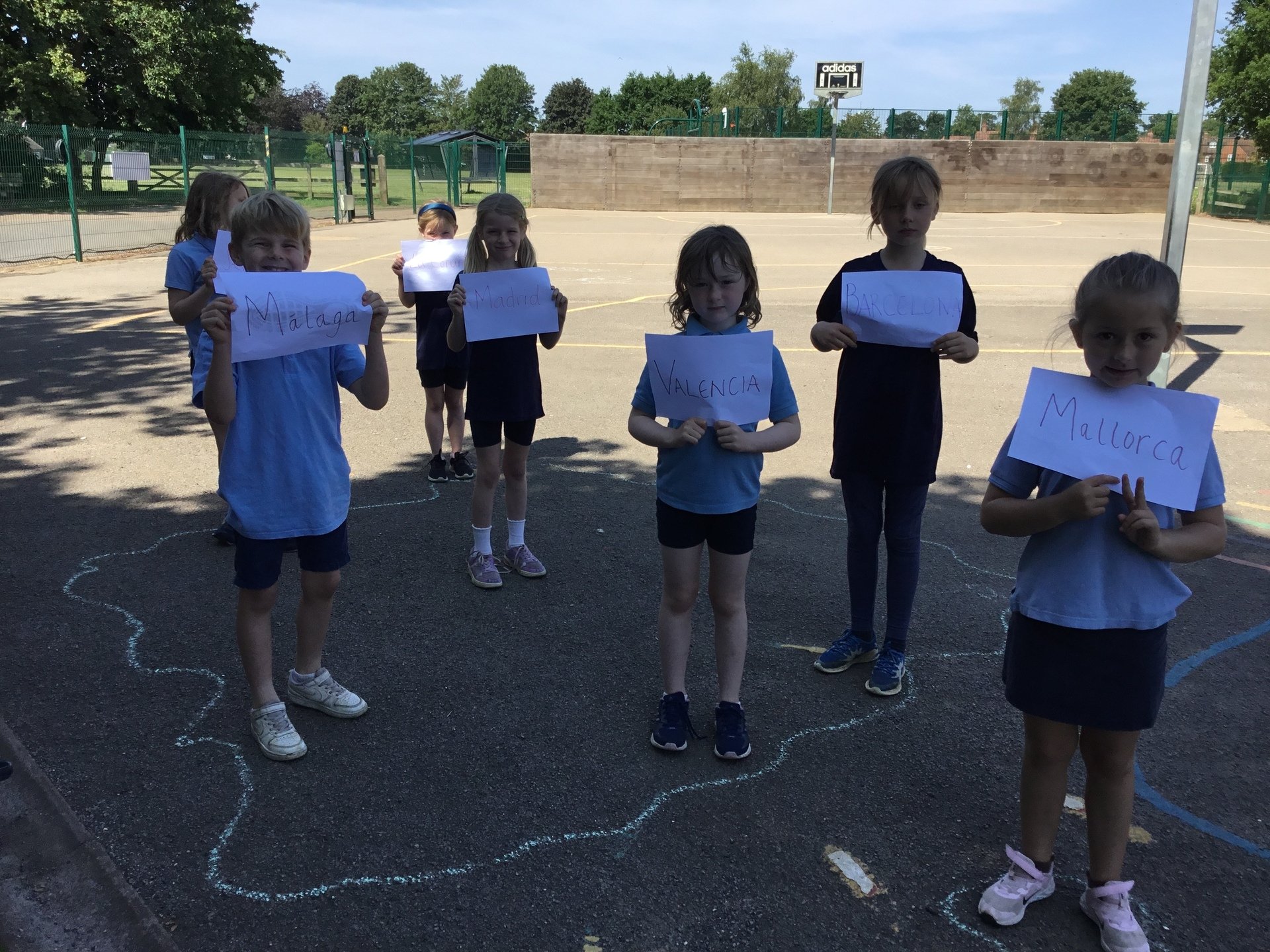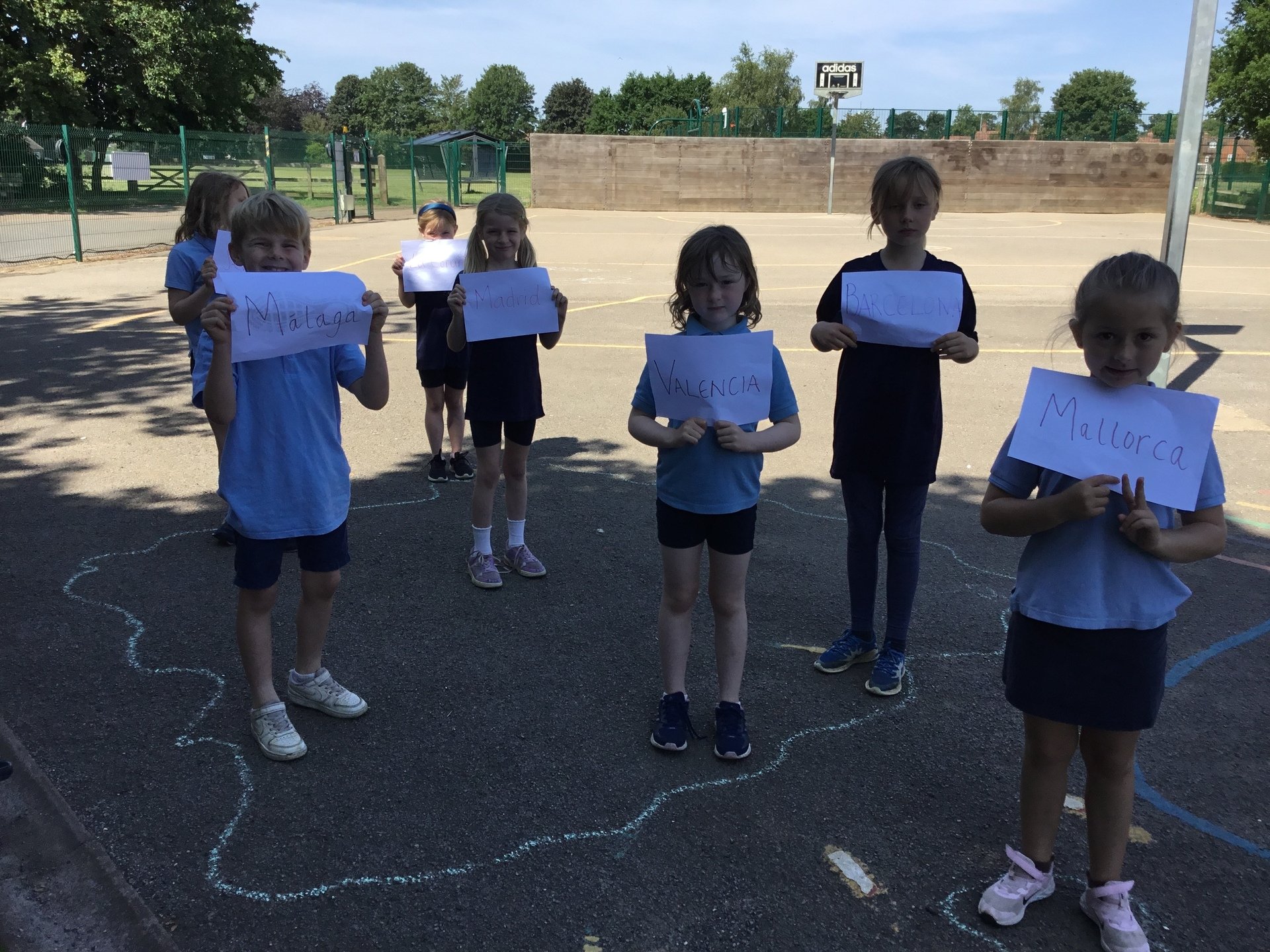 15/06/2023
Year 5's Fashion show
Year 5 have been learning how to describe their favourite clothes, they also had an amazing fashion show!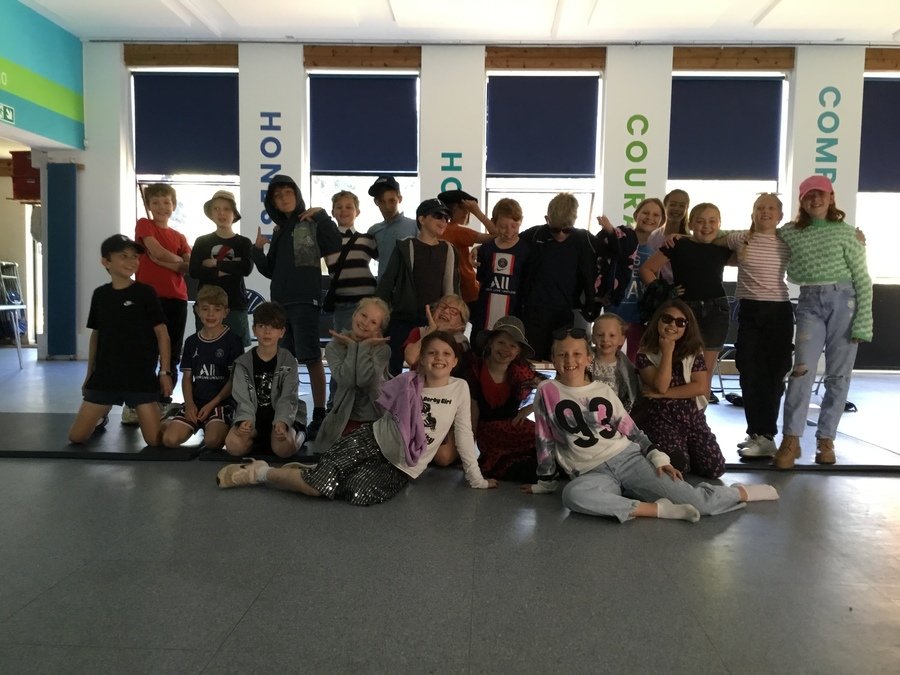 13/06/2023
Forest school
This Tuesday was Year 1's first Forest School of this half term and our first Forest School without Mrs Keeping. We all missed her a lot but had great fun. We found a toad in a tree, who we named 'Chocolate'. We spotted several squirrels running around our Forest School.
Having learnt about Orville Wright's first flight in 1903 with Miss Marriott, we experimented with making things float or fly in the air. Wright's first flight lasted 12 seconds and our longest 'flight' lasted 7 1/2 seconds.
Year 6's Trip to France. May 22nd - 26th, 2023
We waved au revoir at The Pointer at 4am on May 22nd and set off on our adventure to the North Normandy Coast. It was truly an epic trip! The story of Pointe du Hoc and the Maisy Battery, as well as a sobering stroll around The American War Cemetery overlooking Omaha Beach, brought D-Day to life for the historians amongst us. Bayeux Cathedral was inspiring in its greatness and beauty, the market tested our French ( as usual, Madame Tate was SO impressed with all the children! ) and the lunches tasted all the more delicious because they had been hand chosen and needed some courage to buy. Bayeux gave us yet more culture with the wonderful 70 metre long tapestry. It is hard to believe it is nearly 1,000 years old. A new and exciting excursion on Thursday took us up to the Batterie de Caqueret where ruined gun emplacements have been used as a "canvas" for street art. Budding Yr 6 artists were inspired to sketch what they saw, and we hope to use these sketches in the art classroom this term.
A day's sightseeing would never be complete without a couple of hours on the beach. The photos speak for themselves! We hope Year 6 children have made some lasting and precious memories. The children can all be extremely proud of themselves for the enthusiastic and brilliant way they embraced the whole trip. Bravo et merci!
18th May
SEN Information Session
As part of our SEN information sessions, we have Dyslexia Specialists from Hands on Dyslexia coming to run a session on Wednesday 24th May at 5pm. It looks to be a really interesting session with lots of useful information and 'hands on' activities to gain an understanding of Dyslexia and how it can impact a child's learning.
This is open to all parents. Please do come along - the booking link is SEN Parent Information Session - Dyslexia (office.com)
17th May
Church Assembly
As it was such a beautiful day, we decided to have church assembly outside with Gemma. The children loved this!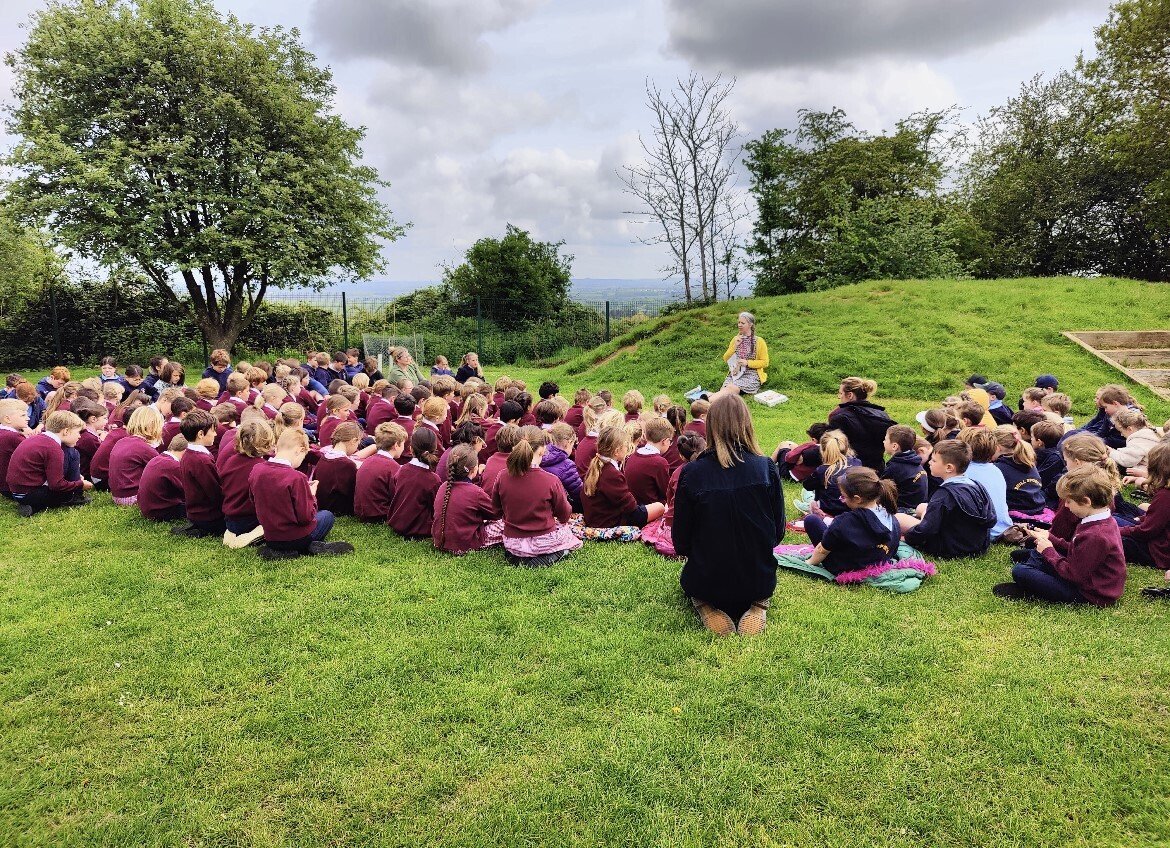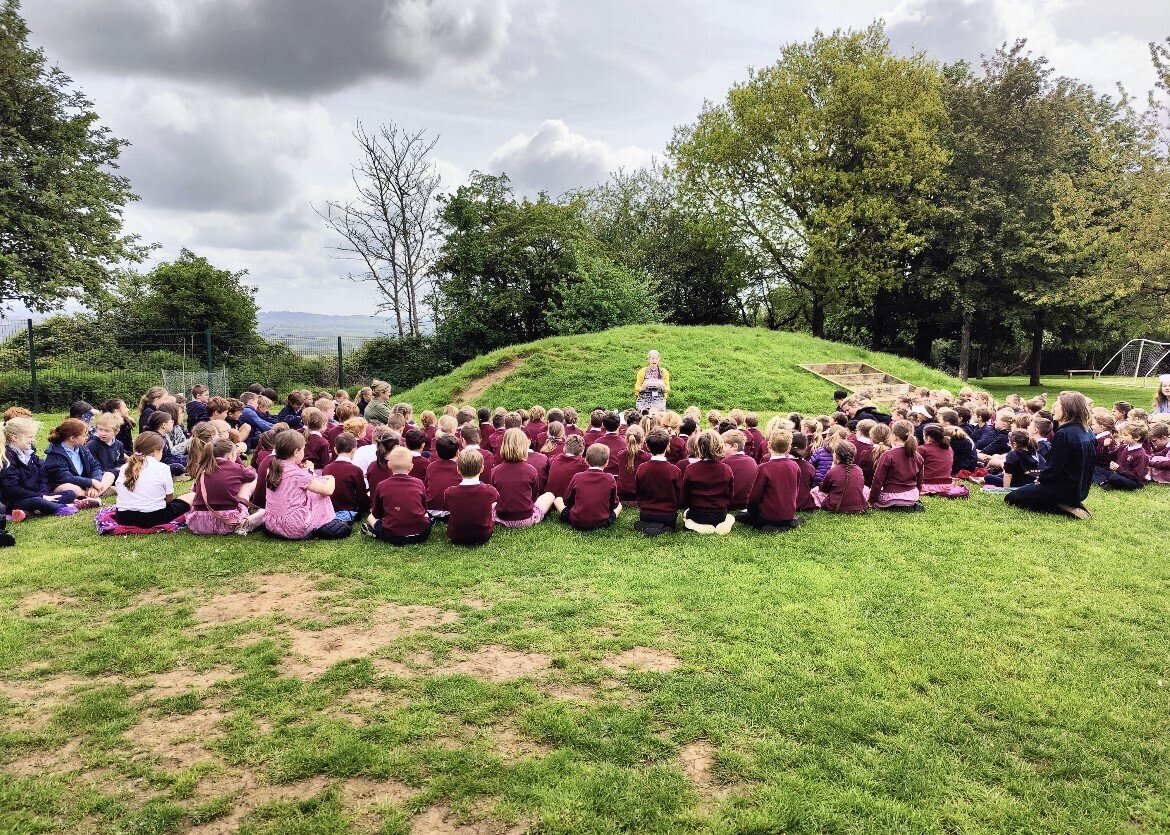 5th May
King's Coronation Celebration
Today, the children celebrated the King's Coronation! We all dressed up in our best Queens, Kings or red, white and/or blue.
The children all looked AMAZING!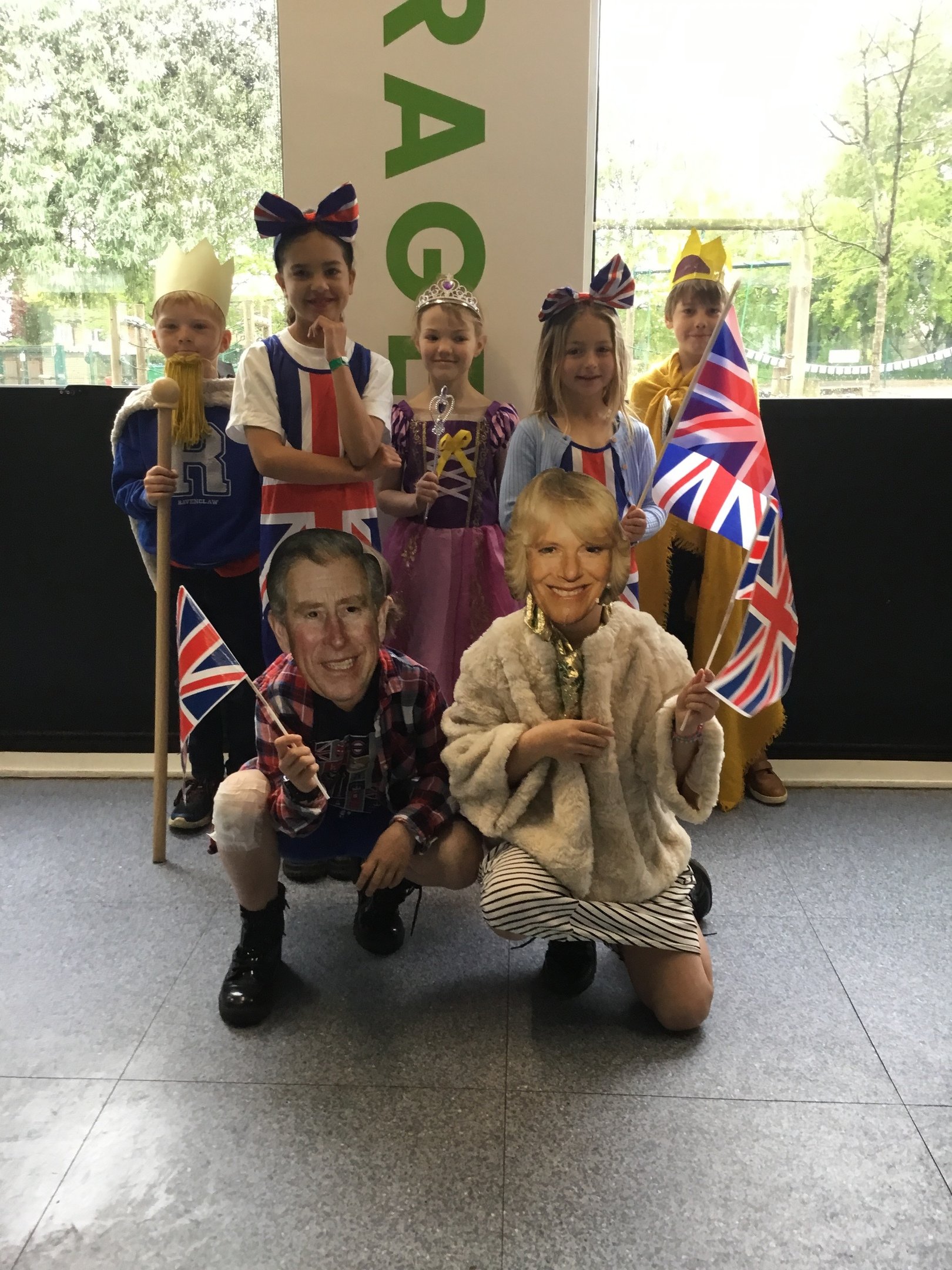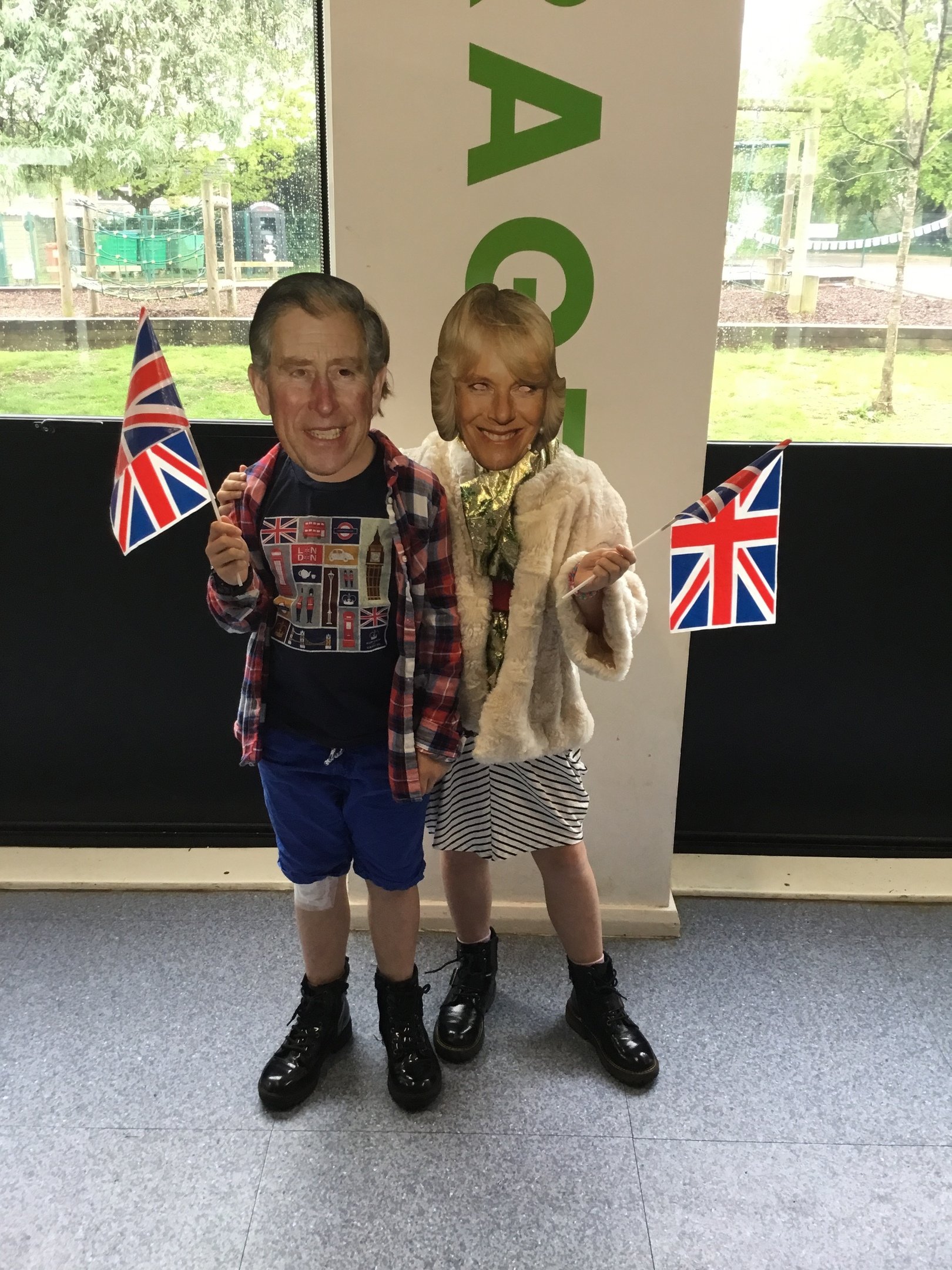 We all celebrated by making our own crowns and even decorated a biscuit for our whole school picnic, which still went ahead even if there was a little rain. We also held a catwalk for our best dressed Kings and Queens (voted by the children)
4th May
Scooter Workshop
Today, the whole school took part in an assembly held by Terry Price, a work champion scooter rider. He performed amazing tricks where he took his hands off his scooter in mid air, he also did a full back flip! The children were amazed and couldn't have looked any more impressed! Terry spoke a lot about how he had faced lots of challenges in his time of scooter riding but that with perseverance and determination he was able to now have the best job in the world! He was incredibly inspiring and taught us that practice does not make perfect, but in fact that practice makes progress.
Throughout the day, the year 3's and year 4's took part in a workshop where they learnt new tricks where they took their feet or hands off the scooters and they were jumping all over the place! All the children were incredibly excited and thoroughly excited by the day. They described this as 'amazing' 'cool' 'sooo much fun' and even 'spectacular'. A super day all rou
24th-28th April
Prayer Space
This week, the whole school has visited the church to take part in our annual prayer space. This is a wonderful opportunity for the children to spend time in our village church and be reflective. All children took part in 4 activities. These included thinking about forgiveness and drawing a picture in sand which we could then rub out to show the incident had been forgiven, exploring our school vision 'With the wind in our sails, we shall live life in all it's fullness' and how we are able to do that in our lives. We also gazed at a bubble tube which was very relaxing and helped us to think about things that we are thankful for. The final activities was to use plasma balls which represented how god is linked to all of us and that we are all connected.
It was a truly fabulous experience for all the children who describe this space as 'so relaxing' 'calm' 'happy' and 'time that we get to think.'
A big thank you to Gemma and the church for organising such a brilliant activities for our children.
March 2023
We had a visit from an author, Maz Evans. Thank you to the PTA for paying for this enrichment experience where we could invite this author in to run this engaging workshops.
The children loved speaking to Maz and finding out how she became an author.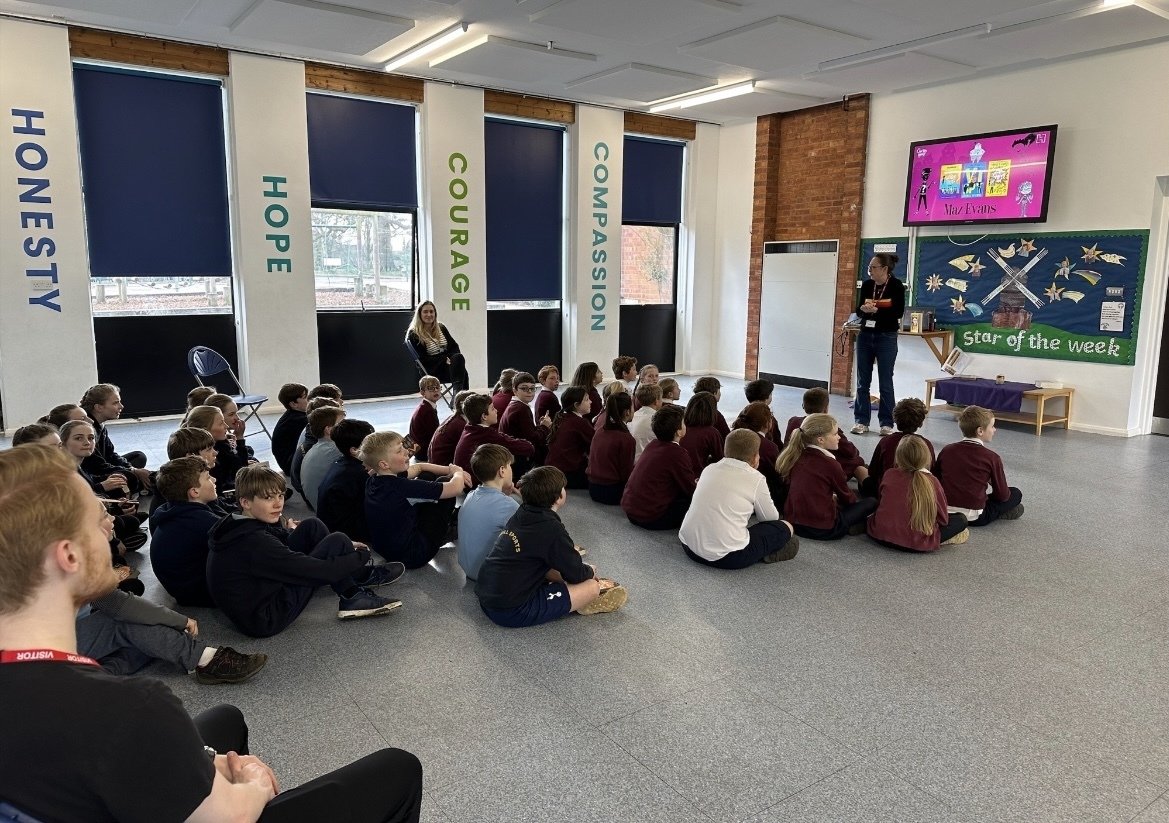 The school had the privilege of having Mrs Stockford hosting a yoga session for different classes.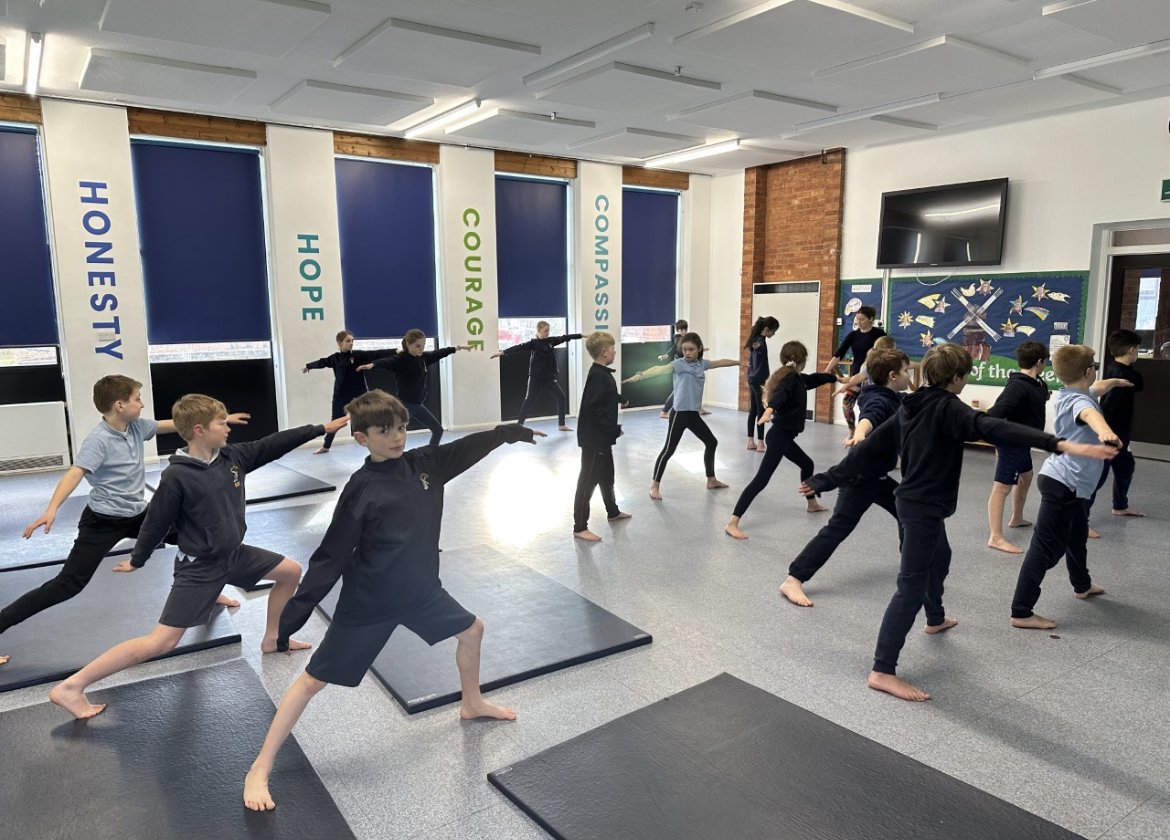 The Year 5/6 Basketball team taking part in the Stoke Mandeville Partnership's competition, coming 2nd!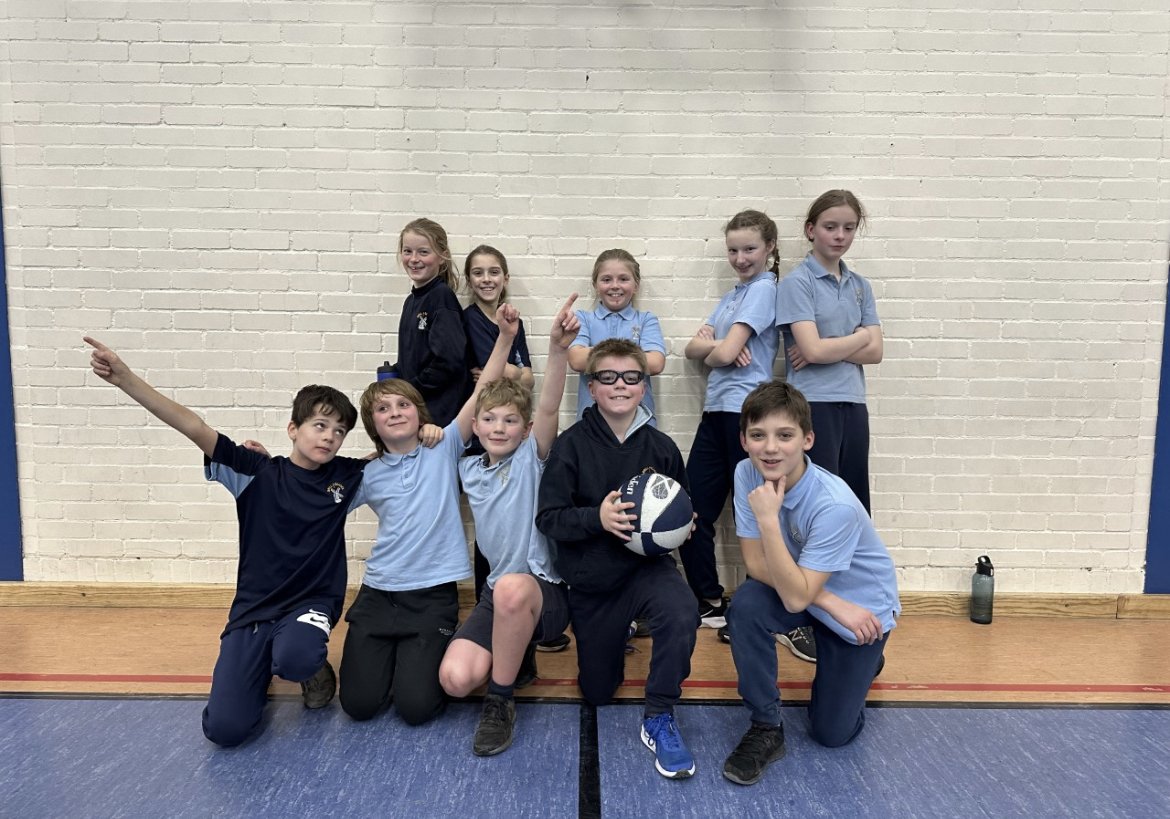 Year R have been LOVING loose play with Mrs Cawston and Miss Cruickshank. They have made cars, space ships and dens.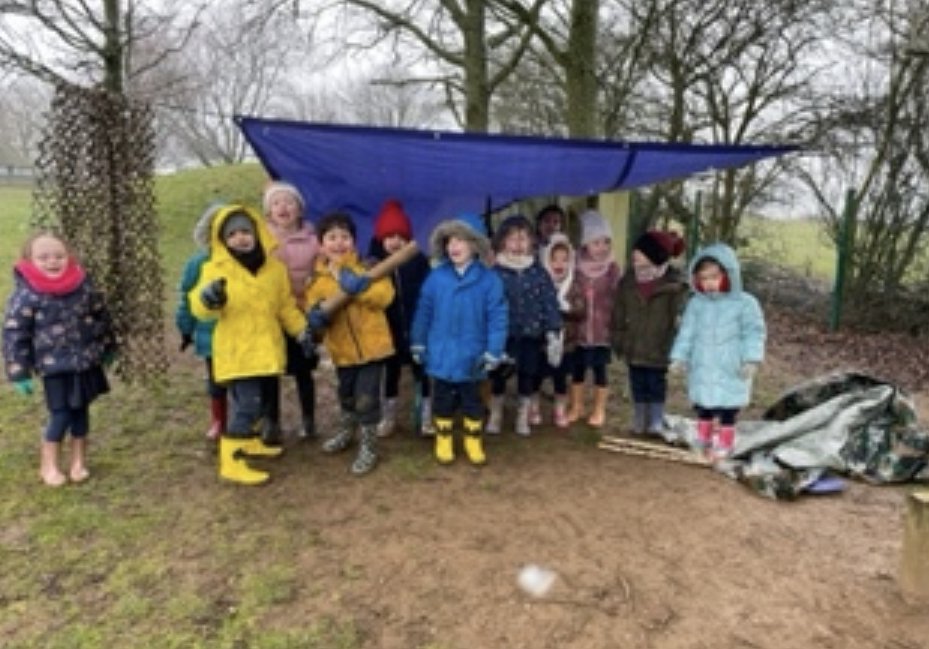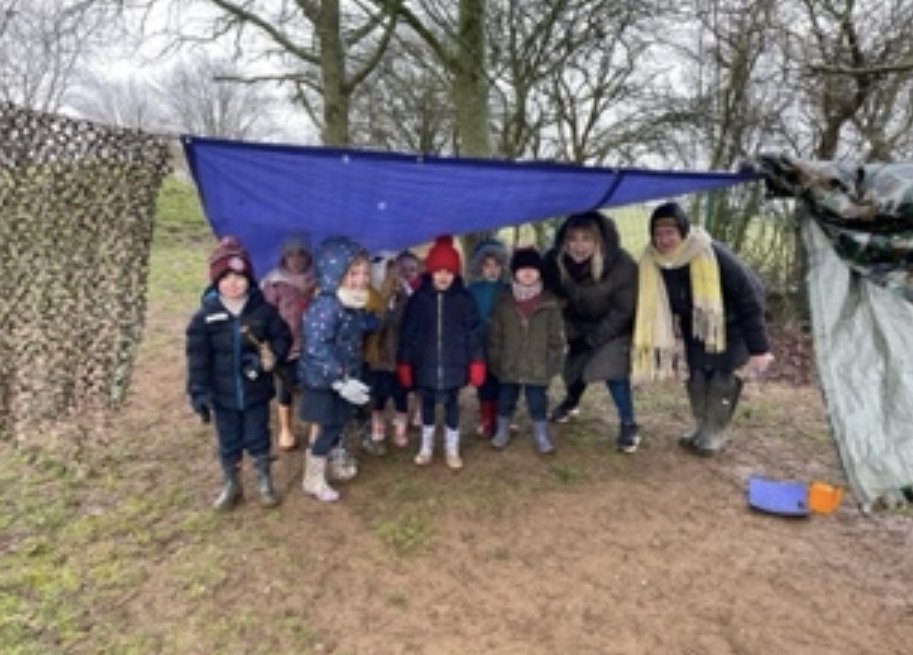 The Year 3 / 4 mixed footballers taking part in a tournament at the Royal Latin School.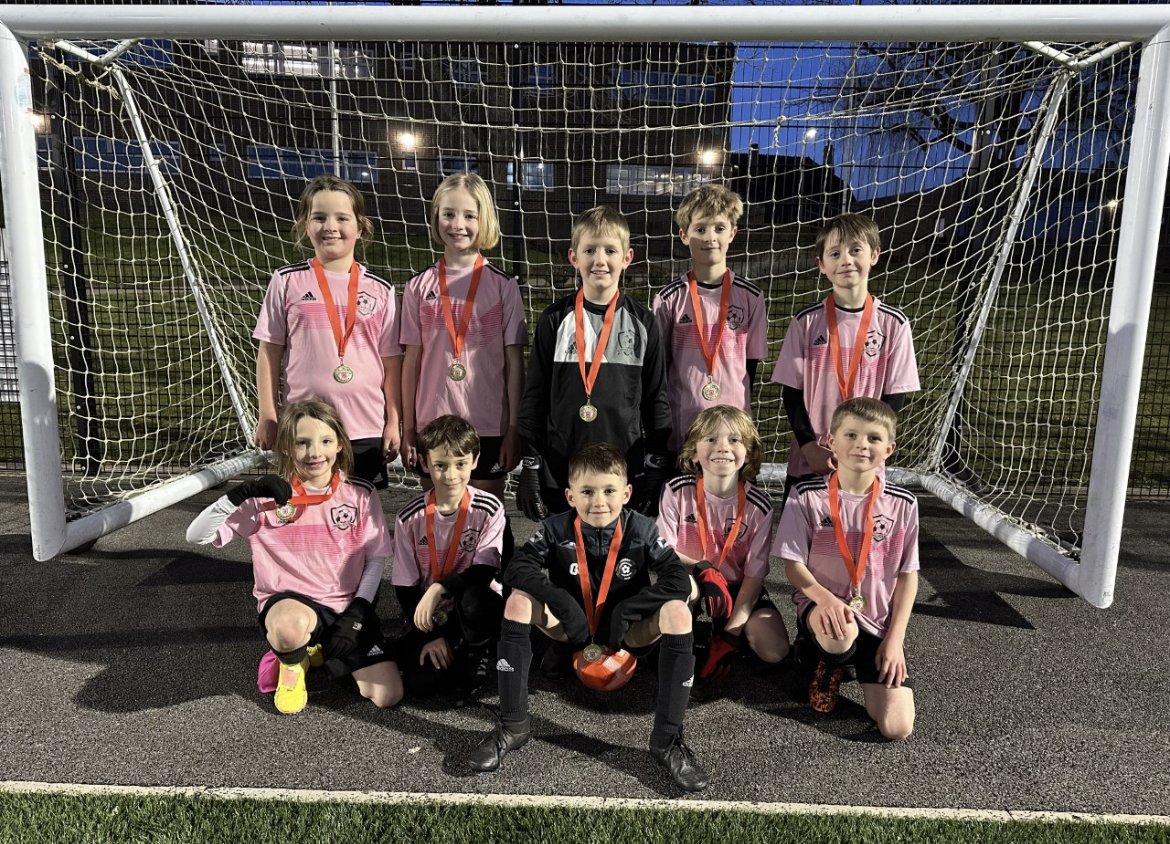 Girls Team win against Long Crendon 7-0 in the snow.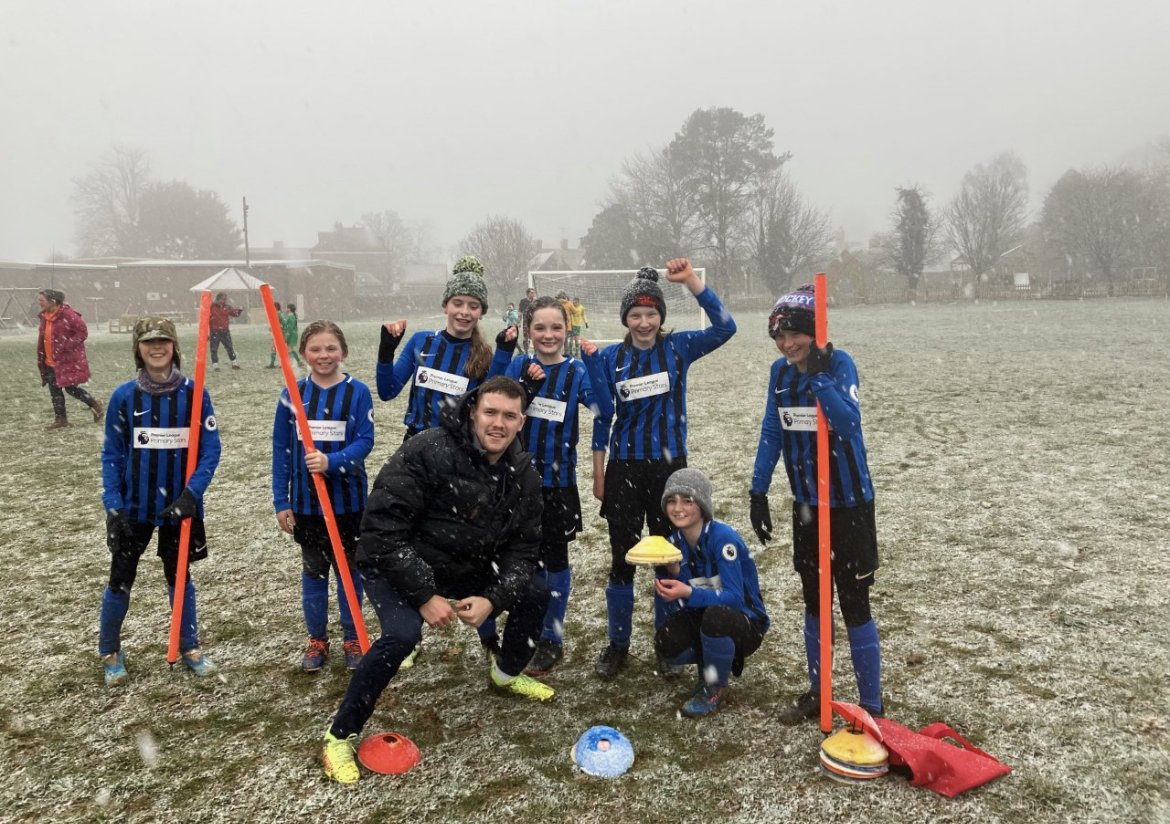 The Year 5/6 Mixed team League match vs Waddesdon. 5-1 win.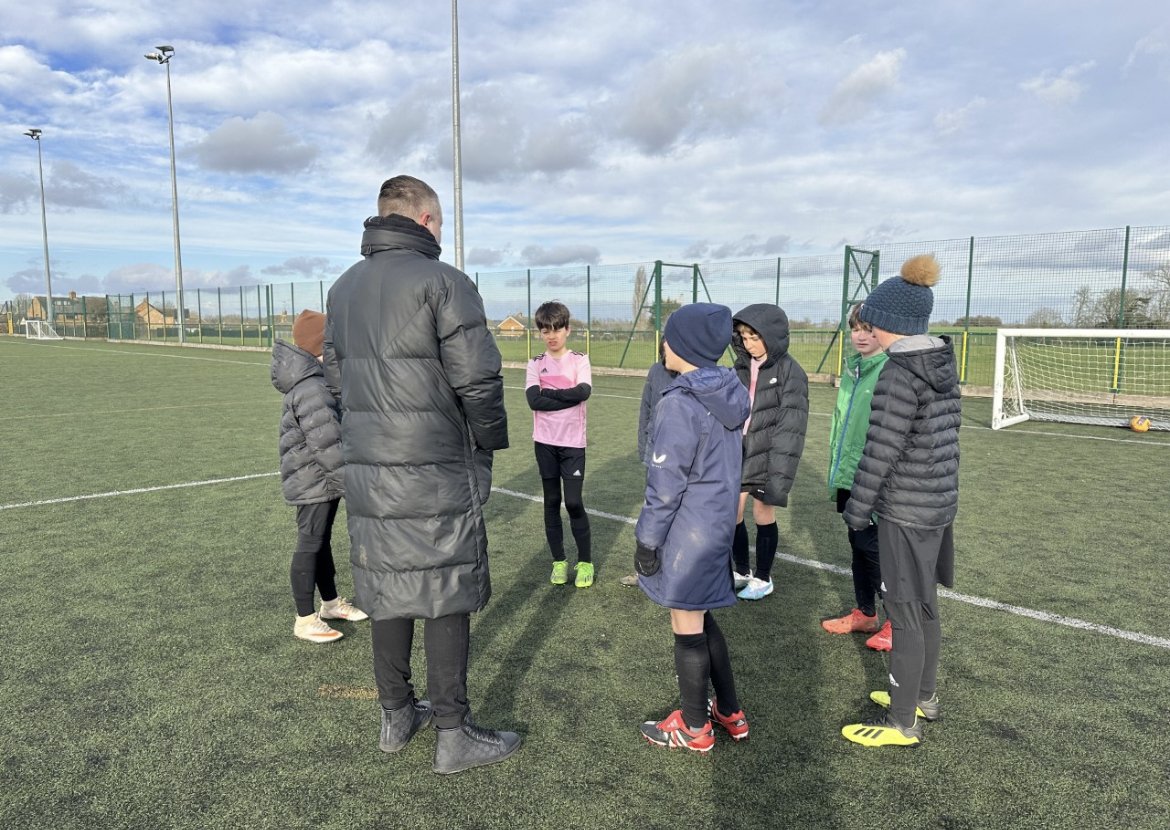 20th March 2023
International Schools Award
Madame Tate visited the Houses of Parliament on the 20th March 2023, to be awarded with Brill School's International Award. Madame Tate has coordinated incredible initiatives at Brill School such as a International week, music workshops from other cultures, she has supported the teachers to embed international threads through the teaching of the whole curriculum and made links with local and international schools. All of these wonderful enrichment opportunities have given the staff and children in our school exposure to the diverse and varied communities and cultures there are in our world. We are incredibly grateful of Madame Tate's energy, passion and drive in this area of the curriculum and our pupils have, and will continue to benefit from the wonderful opportunities we offer them.
Local MP, Greg Smith, posted on social media ' A pleasure to attend the British Council International School Awards this evening in Parliament, especially to congratulate Emma Tate and all at Brill Church of England School who received a certificate commending their outstanding development of the international dimension in the curriculum. Well done to all of Brill CofE School.'
What this space, he now wants to visit our special school on the hill!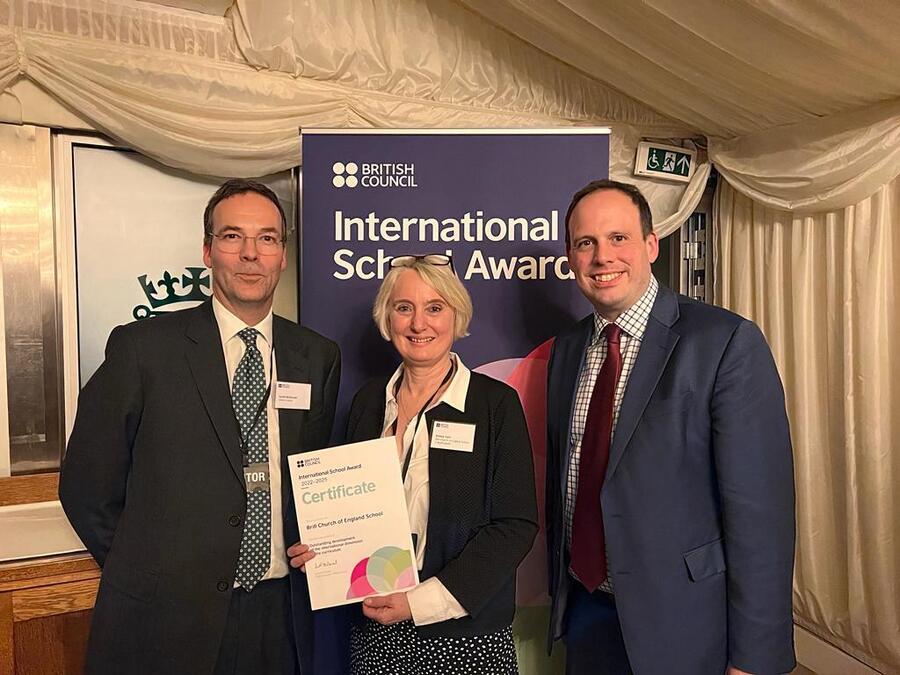 3rd March 2023
World Book Day!
The children looked FANTASTIC in their costumes as did the crazy teachers!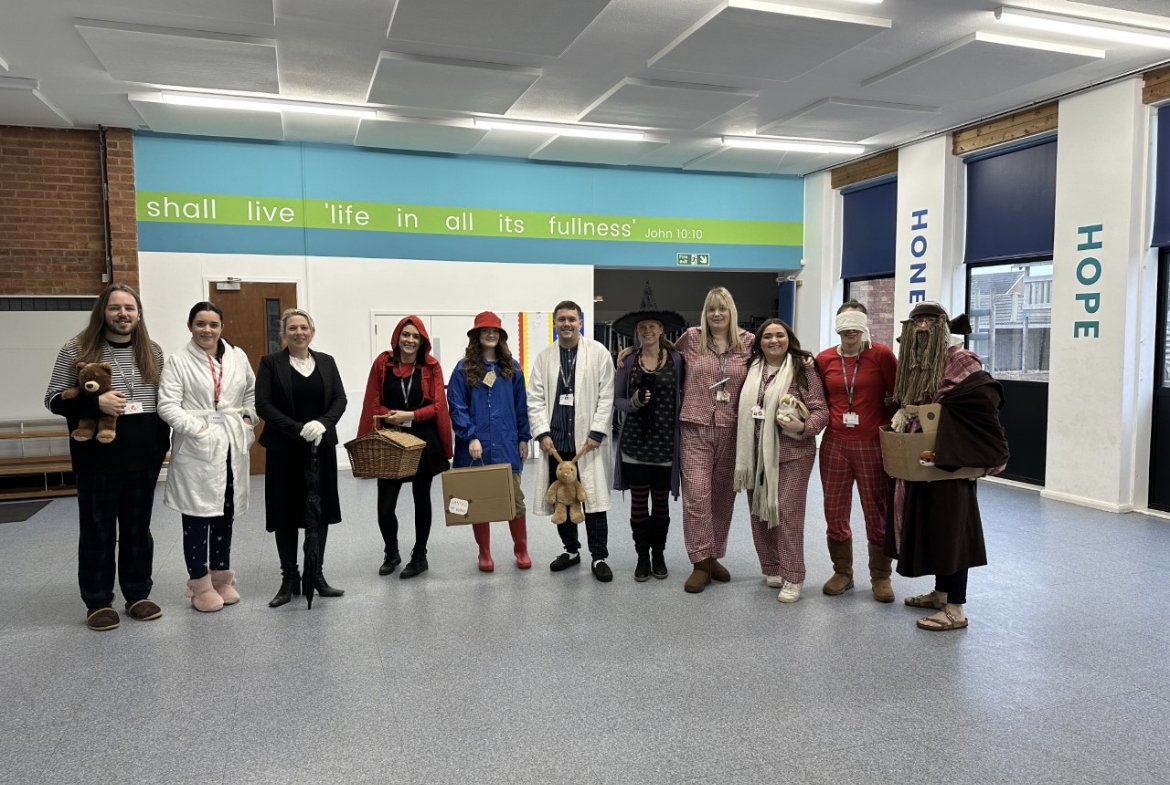 27th February 2023
Autumn's House Point Winners - Bernwode!
Bernwode spent the afternoon at the newly refurbished park in Brill as a recognition of their hard work and commitment towards earning the most house points in the Autumn Term! Children collect house points for showing our school values of Hope, Honesty, Courage and Compassion. Although it was a very delayed celebration, it was well worth it and the children had a great time!
I wonder who will be Spring term's house point winners?!?
World Religion Day February 10th 2023
From Noah's Ark to Japanese fried rice offerings, from beautiful mosque inspired Islamic tiles to Tibetan dancing, from Buddhist forest school art to Jewish Kosher food, from reimagined Khanda mosaics to Hindu Gods and SO much more…… All this has opened our eyes to how religions link us together across the world. We have learnt to celebrate our differences and respect each other's beliefs while still having lots of fun.
Brill School's World Religion Day has been a brilliant success thanks to the impeccable behaviour and enthusiasm of all the children and the hard work of all the staff. What a fantastic way to end the half term!
Whole School News
teachers on: Whole School News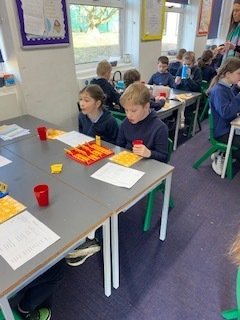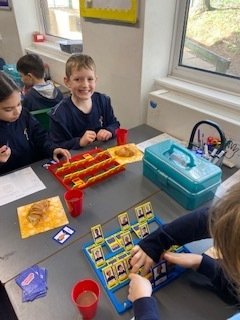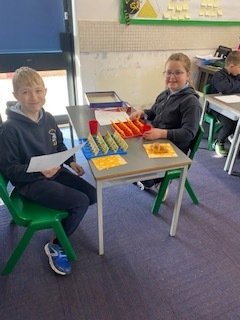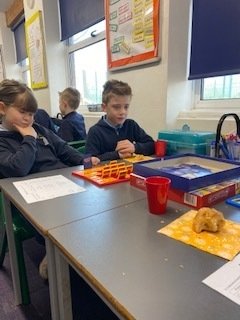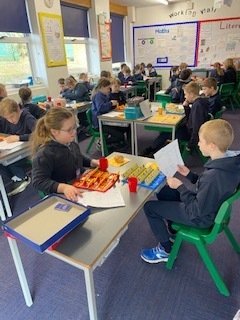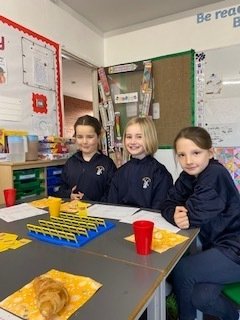 Year 4 enjoyed a fabulous morning playing "Guess Who?" or "Qui est-ce?" all in French. Their confidence and speaking skills were amazing. Perhaps the croissants and hot chocolate helped? " I wish all French lessons were like this.... " summed up how much the Year 4 children enjoyed their morning. They can feel very proud of themselves.
---
Children In Need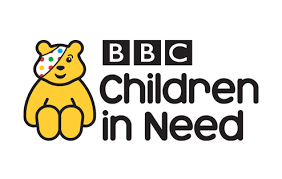 Children came dressed in their own clothes and spots to promote 'Children In Need', the school raised a total of £260, thank you to everyone who donated.
Christmas Jumper Day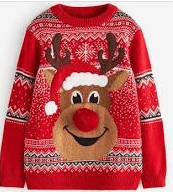 It was lovely to see all the children in their festive jumpers on Friday 9th December, Christmas joy ran through the school. The school raised a total of £155.10, which will be donated to 'Save The Children'. Thank you to everyone who donated.
BMX Growth Mindset Workshop
The PTA have funded the recent visit to school by the BMX, Skate & Scoot Academy! Mike Mullen, academy founder and BMX champion, treated all the children to a motivational assembly and trick display followed by a workshop for years 5 and 6.
Mike's approach is, "designed to empower children by role-modelling a growth mindset approach and encouraging children to stretch their comfort zones. Children are taught to self motivate, close the 'I Can't Door' and use positive self talk." He taught the children to keep on 'Flearning' (to learn by failing).
Mike's display wowed the children and even some of the teachers got involved with the tricks (ask your children!). The day seemed to be enjoyed by everyone and Mrs White described it as 'incredibly inspiring... phenomenal'!
The BMX, Skate and Scoot Academy with hopefully be returning to school next year... watch this space.
Our Jubilee Celebrations
On Wednesday 25th June the whole school celebrated the Queen's Platinum Jubilee. The whole school were off timetable for the day and took part in creative activities that enriched and celebrated the whole curriculum. This included designing and making crowns, historical activities, cookery tasks and much more. Each class took part in planting an oak tree in the school grounds to mark this memorable day and recognised that it is their responsibility to look after and care for the trees for their time at Brill.
We were amazed by the efforts of the children's costumes and the buzz in the school was fantastic. A truly memorable day!
Click on the images below to see them more clearly.
Recovery Curriculum
Our focus this term on the children's return to school has been to ensure that they have re-established their love for learning and have felt safe and happy at school, all of which will make them more effective learners. We want to make sure that the children do not hear that they are 'The lost generation'. We agreed with a view shared by the British Psychological Society that '…..the notion that children need to catch up or are 'behind' at school due to the pandemic reinforces the idea that children have 'one shot' at their education and puts them under even more pressure to perform academically after what has been a challenging and unprecedented time for everyone.'
We were heartened by the comments of the recently appointed Education Recovery Commissioner Sir Kevan Collins: "We have to be bold and ambitious," he said. "The recovery needs to be long term, sustained and far reaching. Catch-up is not the language I'm using. It's much more about recovery over time. Catch-up is part of it but that is not going to be enough."
We agree and believe that children need to recover not catch up. They need nurture, laughter, play and meaningful, exciting experiences. We know that learning starts with curiosity which starts with feeling safe. If we focus on that in the first instance, we are certain that the rest will come.
Please click here to watch a short video from Mrs Oliver and Miss Butler who have been leading on our recovery curriculum. This will give you a flavour of the work that they have been doing to support pupils and staff across the school.
Year 6 Play
Year 5 and 6 amazed us all this week with their stunning Wizard of Oz show. In just 5 weeks, the children learnt dozens of dances, made props, painted the set, created stunning costumes, learnt hundreds of lines and built (and then re-built) the stage! The result was a high-class show full of beautiful singing, dancing, great characters and fun. With Year 5 supporting with their wonderful chorus singing, the performances to both the school and parents were truly magical. We're so proud of all the children involved, and incredibly grateful to all the adults who helped ensure it was a success: Mr Dickson, Mrs Worthington, Mrs Ellis, Mr Horton (and his tech assistant Oliver!), Mr Birt, Jenny Davis, Mrs Wilkinson and all the staff who helped backstage. One of the key themes of the Wizard of Oz is the power of friendship. Year 6 are a shining example of how even in the toughest of times, they can rely on each other and pull off something truly amazing!
We are very excited to be introducing Brill's new vicar, Gemma Beesley. We already have lots of exciting plans for September to link with the church and to further develop SIAMS at Brill school with the support of Gemma. We are very excited to develop this relationship with the school community and pupils. Click here to view a welcome video of Gemma introducing herself.
Swap Day
On Monday all year groups visited their new teachers for swap morning. The buzz and excitement was felt throughout the school and what a brilliant morning we had! It was lovely for the children to become familiar with their new classroom and get to know the teachers. There was circle times, creative activities, playing and lots of chatting! All teachers are very much looking forward to meeting their new classes in September.
We were very impressed with how well the children transitioned and embraced the experiences in their new class. Both the staff and children have reported how much they enjoyed this session and we plan to offer other opportunities for the children to meet their new teacher prior to the Summer holidays.
Click on the gallery below to see photos of the children across the school.
Opening Ceremony
We were very lucky to have XYZ music at school on Friday morning to perform a concert to the whole school. The children interacted in the concert and it started our race day off with a bang!
The concert was followed by a performance from the winning dancers of Monday's dance competition. Rushbed were the winning team on Monday and therefore a group of Year 3 and Year 6 children performed dances that they'd choreographed to the whole school, they were incredible! Well done to both groups who represented Rushbed wonderfully.
Eco School's Silver Award
Mrs Keeping and her Eco Councillors (with the support of children across the school) have achieved the Eco School's Silver Award. We are very proud of the children at Brill School and hugely grateful of Mrs Keeping's passion and drive in this area of the curriculum.
This month's value is 'Action' and the children have been considering how their small actions can have a BIG impact. We would like to share with you a video that we have put together which shows the work the children have been doing recently on 'Biodiversity'.
https://www.youtube.com/watch?v=FAt1ofCDFRk&list=UU4GeT47oGL-FOktY8Ju8qTA&index=2
Whole School Assemblies
It was such a pleasure to deliver a whole school assembly face to face for the first time in a very long time last Friday 11th June. The whole school congregated outside, sitting in their paired year group bubbles to celebrate our 'Stars of the Week' and to collate our house points. The assembly finished with an opportunity for the children to reflect on what had been their most enjoyable experience back at school.
There is something very special about congregating as a whole school and listening to the many success across the year groups. We were very proud of all of the children who demonstrated our value of respect beautifully throughout the assembly.
Stars of the Week
Elizabeth (Y1), Maisy (Y2), Isabel (Y3), Grace (Y4), Gabriel (Y5), Harriet (Y6)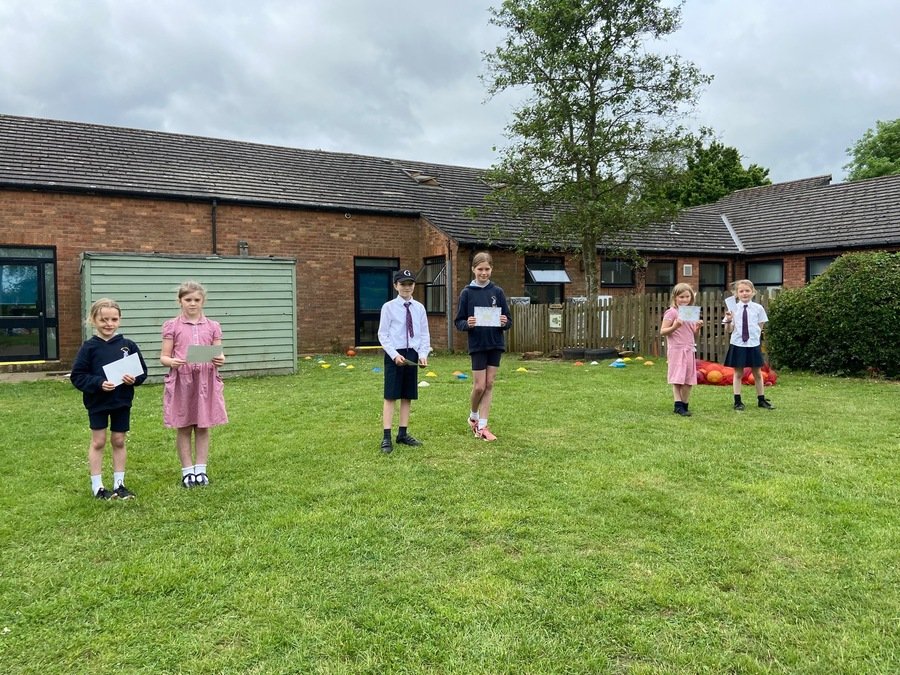 Remembrance Day 11.11.2020
School News
admin on: School News
As a school we have been marking Remembrance Day today with lots of reflection, writing, crafts and artwork. In Year 6, we made 'hope' butterflies after a nature hunt using leaves and twigs. We also designed our own remembrance pebbles.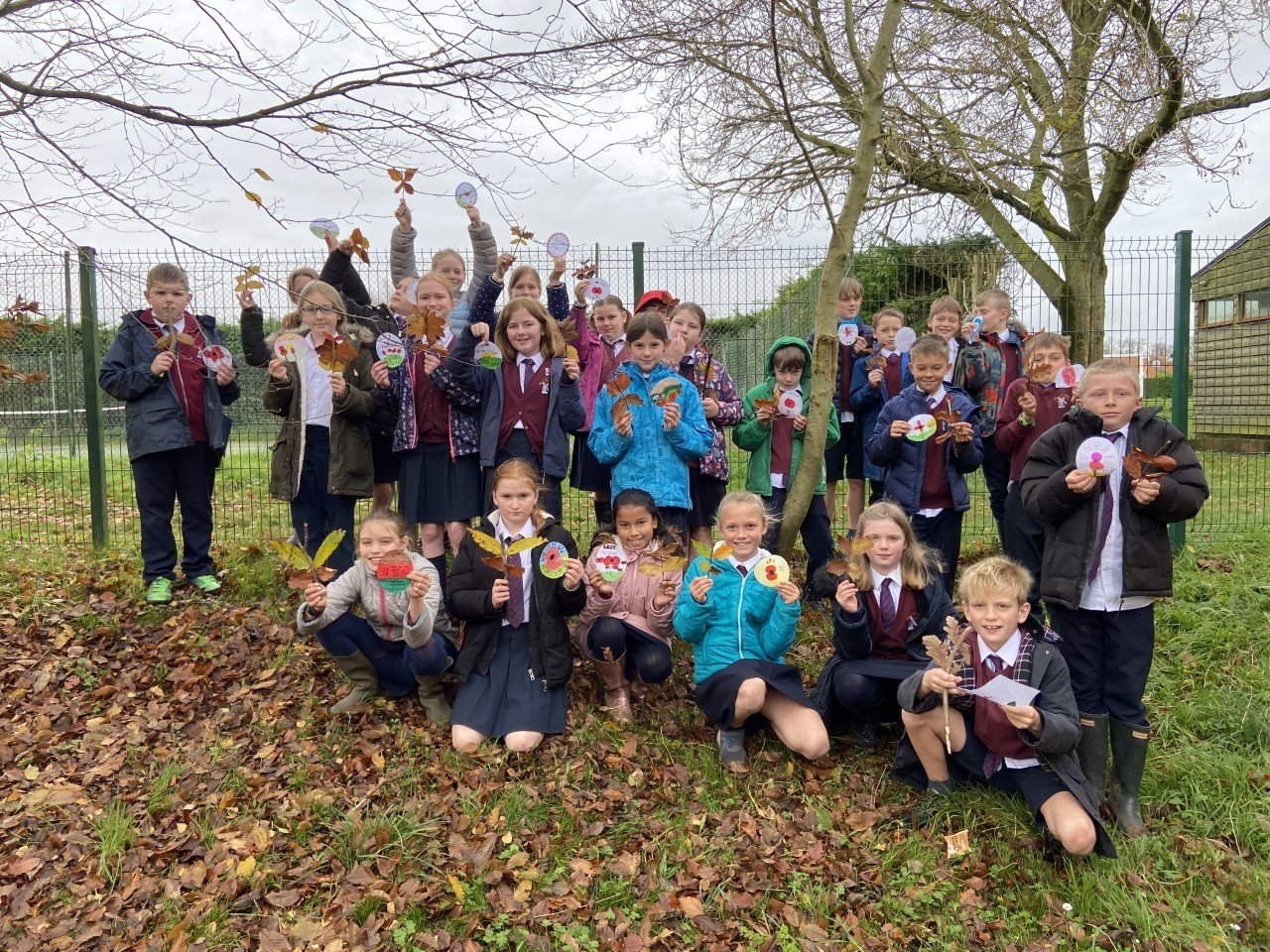 ---
admin on: School News
Click on the link below to watch a short video capturing what we've been up to in school so far!
We are all so pleased to be back!
---
admin on: School News
Year 1 are having a wonderful time in their new outdoor area! Everyone has their new waterproof outfits on too.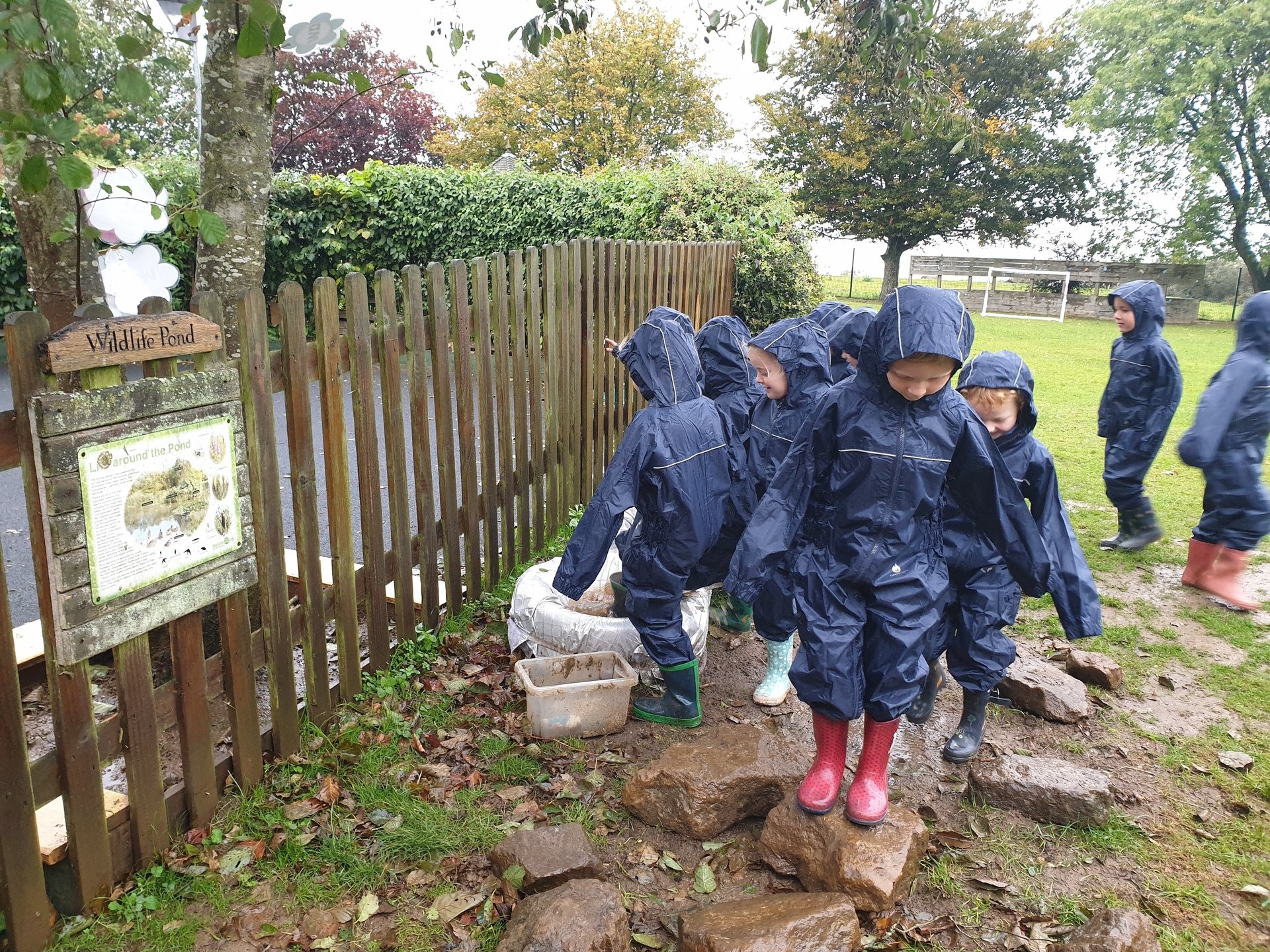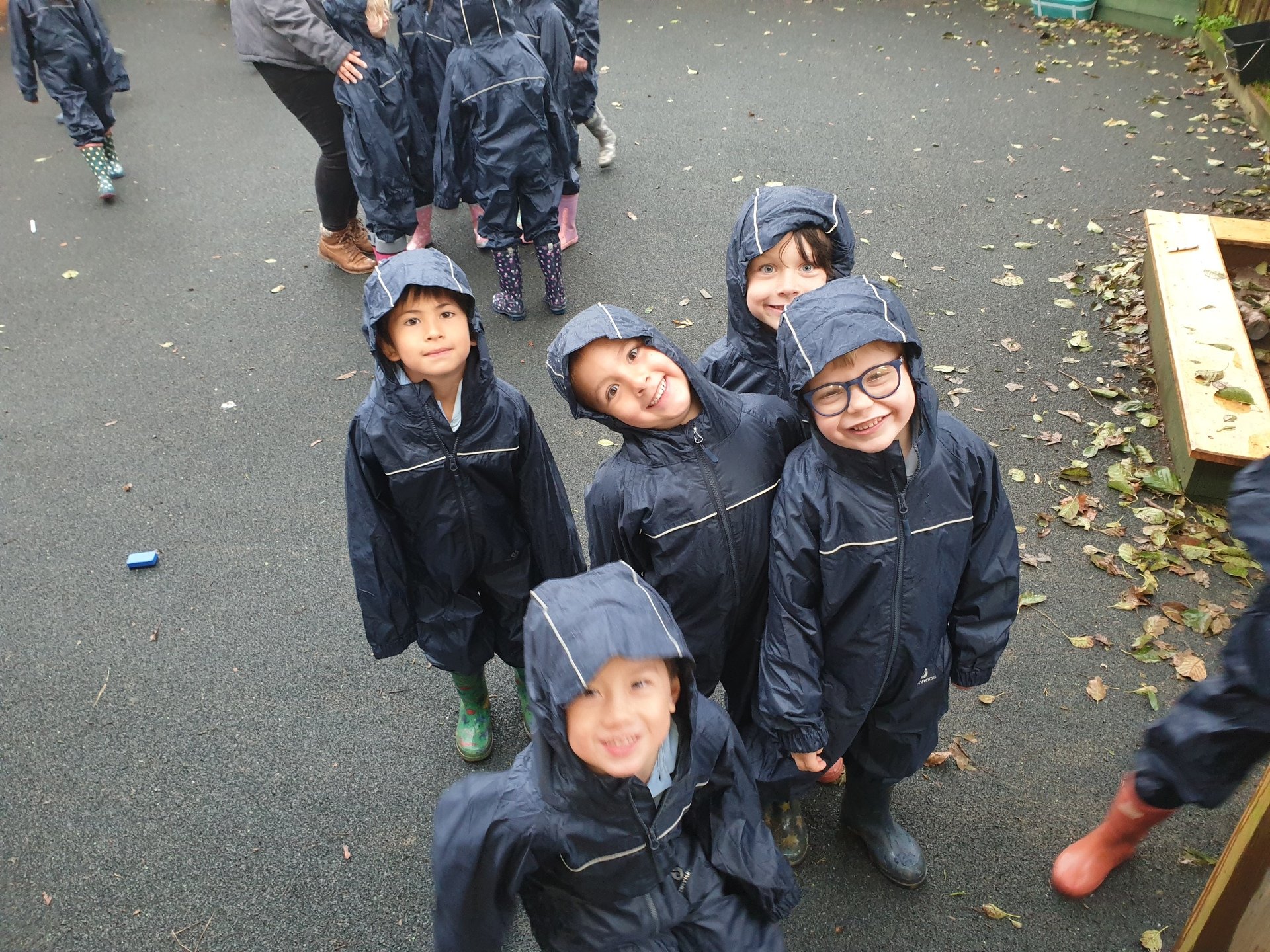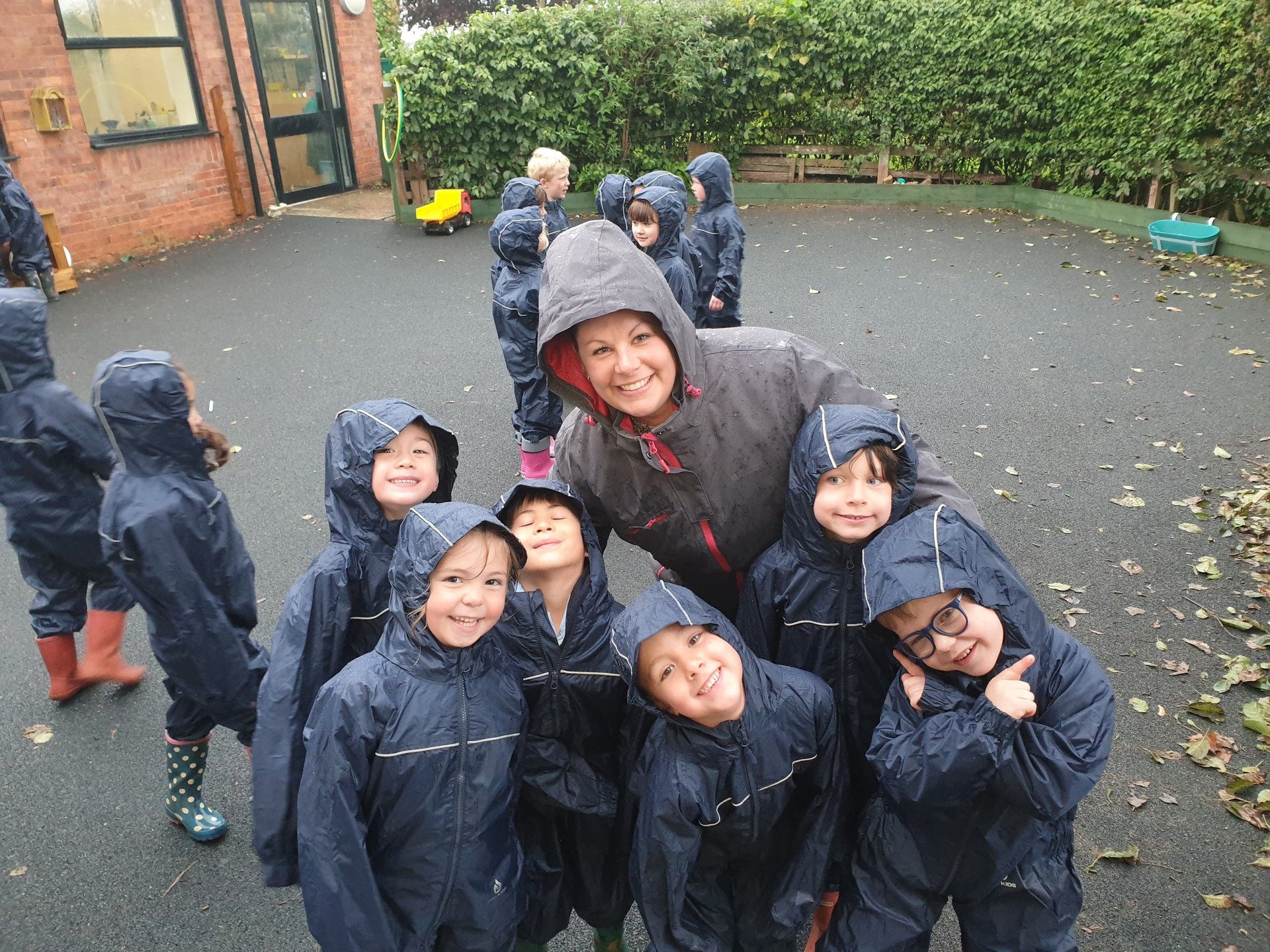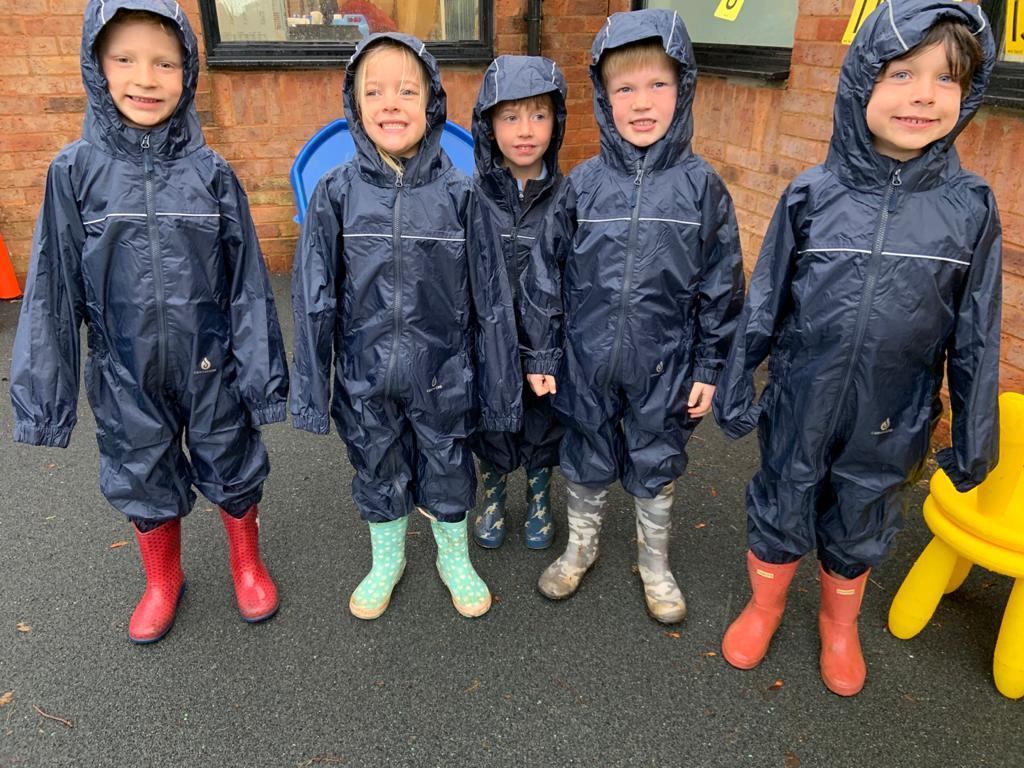 ---
admin on: School News
This week it was International Literacy Day and we marked the occasion by recognising the importance of language development and how lucky we are to be at Brill school, where we learn to read and write amazing new words every day. Happy reading and writing everyone!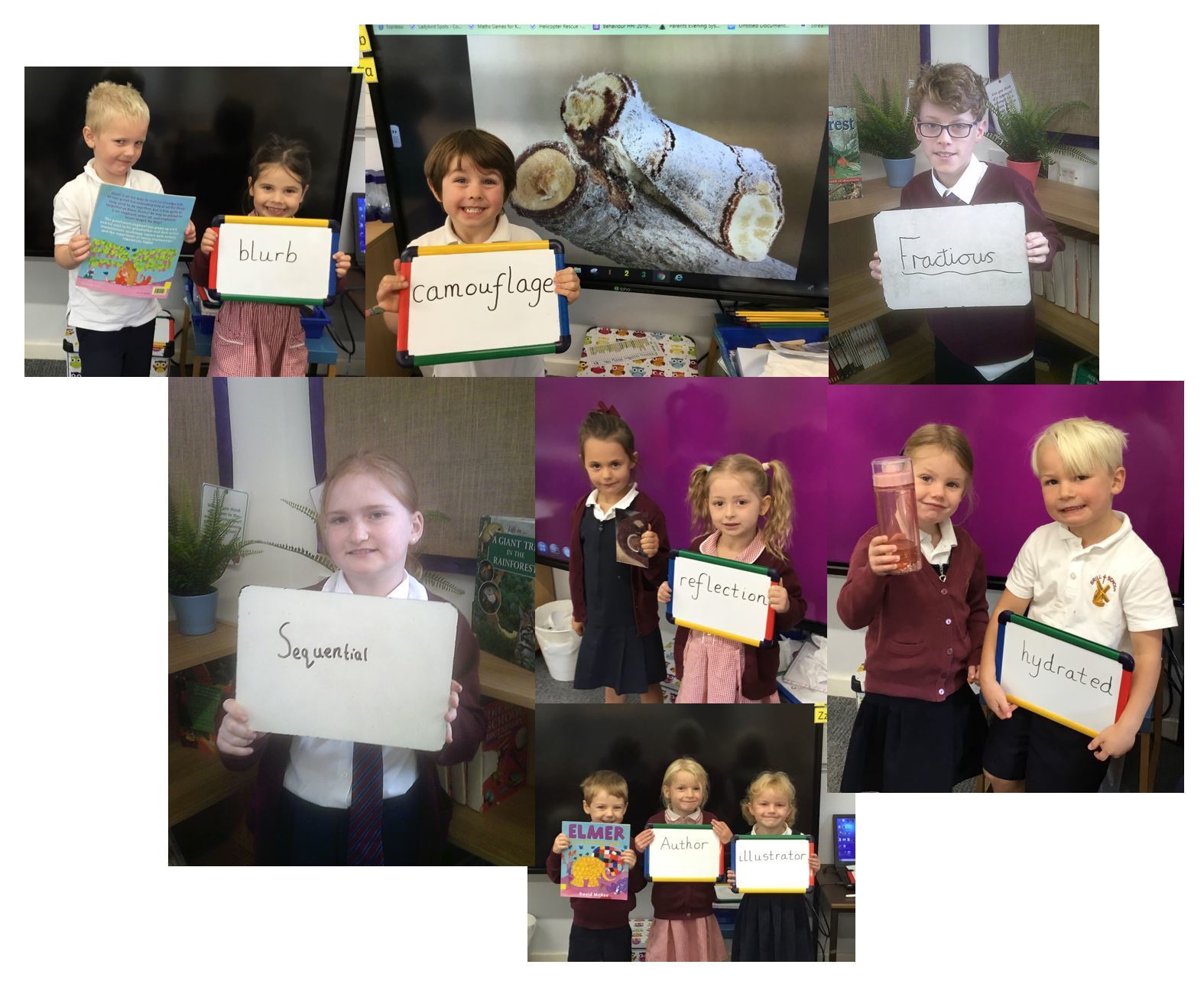 ---
admin on: School News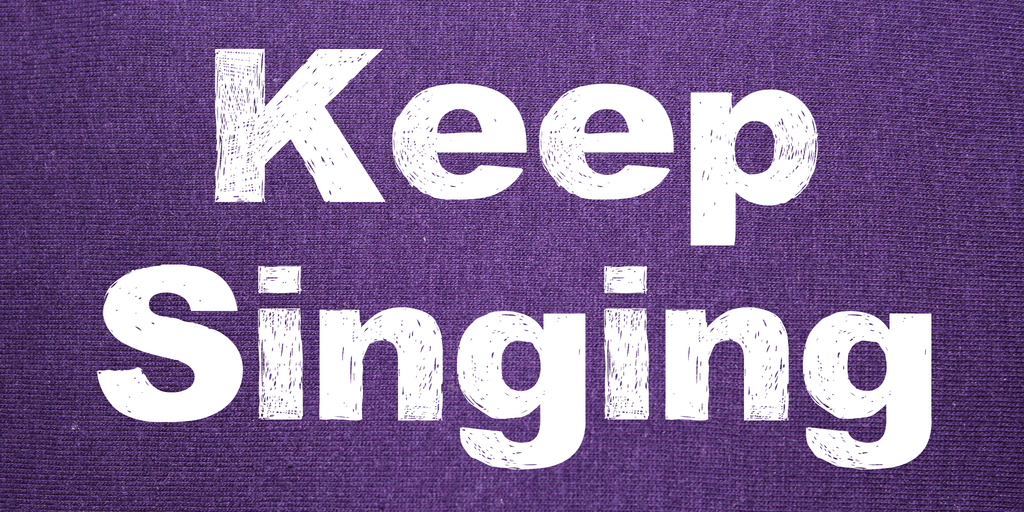 Check out the new videos Mrs Baker took on Friday on our Music Page of the website. They are for fun, they are to sing along to, they are to keep music alive!
---