Latest News and Updates from Brill School
09.11.2020
Parent Update Evening
Our 3-5 Year Aims and Priorities for 2020-2021
Below is a presentation from our Chair of Governors, Liz Cotgreave. Liz shares our aims for the next 3 to 5 years and the outcomes of our 2020 Parent Survey, then highlights a few of this year's priorities. We've picked some of these to tell you more about in the videos that follow.
The following set of slides are a more detailed version of those in Liz's presentation, and you can see the 2020 Parent Survey results here.
Priorities for 2020-2021
Below Mrs White and the Team share videos explaining how we plan to address some of these priorities and why we feel these are important areas to focus on this year. We will share more videos updating you on our progress in each area of our priorities throughout the duration of the year.
Aim #1: Brill children move on with 'the wind in their sails': with the resilience, thirst for learning and values to sustain them beyond their Brill School years.
Priorities for 2020-2021:
Ensure all stakeholders have a clear understanding of what a 'BRILL child' means and have clarity on our school vision.
The video below will explain to you our curriculum's vision for all pupils at Brill School and explains to you what we mean by 'The Brill Child'.
Watch the short video below where Mrs White focusses on, in more detail, three areas of the 'Brill Child'.
Our Curriculum's Vision
See below the curriculum vision document that Mrs White has discussed above.
The Whole Child
Watch the short video where Mrs Keeping talks about how we put emphasis on developing the 'Whole Child'.
Progress is a priority for us this year. We will be working hard to support all pupils to make accelerated progress, build on their growth mindset and reignite their thirst and love for learning.
Aim #2: Brill children, whatever their starting point, make progress that is well above the national average: They will have secure skills in Maths and English, a depth of understanding across the curriculum, good awareness of our diverse and changing world, and the confidence to play their part in it.
Priorities for 2020-2021:
Secure our progress in Maths and Literacy with baseline assessment and create catch-up plans informed by our SEND ethos and practise.
The video below highlights what progress is, how we ensure our pupils make progress and how we measure and collate evidence to monitor and track progress.
Communicating about children's progress
We will be informing you of your child's progress through parents evenings, which will be held termly. The staff will be working closely with your children to establish secure understanding of where their strengths are and to identify and support areas for development. We will continue to use parent council this year to find out more about what parents want to hear and be informed of. Please look out for a request for input from your class reps and tell us what you think.
Aim #3: We have continued to attract and develop outstanding people committed to our Brill ethos. Our outward looking team collaborates and innovates alongside partner schools and organisations to inspire and improve.
Priorities for 2020-2021:
Collaborate and innovate with other outstanding settings to develop staff professionally and positively impact on our school practise.
In the video below Mrs White identifies the strengths of the Brill Team which includes; staff, pupils, parents and our local community. Despite the current restrictions, the staff continue to be outward looking, striving for improvement, innovating and collaborating to improve our practise for the benefit of the pupils.
Watch the short video below to hear from Mrs Oliver, our new SENCo.
Please visit the subject pages on our website, under the Curriculum tab to hear from other members of the team talking about how we approach specific areas of the curriculum in engaging and innovative ways.
Aim #4: We will develop our learning environment to enable innovative outdoor education, reduce our environmental impact as far as possible and create safe, inspiring learning spaces for 30 children in each class.
Priorities for 2020-2021:
Enable pupils to lead and make changes in our behaviours and approach to waste and consider how we can reduce our environmental impact.
Watch the short video below to hear from Mrs Green who explains how the new outdoor area for Year 1 enhances and enriches Year 1's curriculum.
Watch the short video below to hear Mrs Keeping sharing her passion for Forest School and its benefit on the children's curriculum.
Parent feedback and Q&A session
Please watch the video below to hear about our follow up Q&A session, which will be held on Teams.
Watch what we've been up to...
5.11.20
Parent Update Evening

Due to the current restrictions we will be running our Parent Update Evening on the 9th November 2020 remotely. We will be uploading small video clips onto the school website where we will be sharing with you our priorities and aims for the coming academic year. You will hear from the Staff, Senior Leadership Team and Governors and we ask that you feedback any thoughts or questions to your year group parent council reps. These questions will then be followed up on in our Q&A session on the 19th Nov, 7:30-8:30pm. All parents are welcome to join and listen to this Q&A session on the 19th Nov where your class reps will bring your questions to the Staff, Senior Leaders and the Governors.
This will hopefully offer an opportunity for us all to feel connected in some way and give you an opportunity for your voice to be shared and common questions addressed.

Please click here to complete the parent survey in preparation for the Parent Update Evening.
5.11.20
Keeping us all safe
Dear Parents,
As Coronavirus cases in Buckinghamshire continue to rise, we're reminding everyone to keep playing their part in reducing the spread of the virus by following these simple steps:
Don't mix with other households indoors

Observe rule of six outdoors

Stay 2 metres apart

Wear a face covering

Wash your hands

Stay at home if you have symptoms
Thank you for your support and cooperation.
3.11.20

New routine for drop off and collection

Thank you for your cooperation this morning while we trialled a slightly amended version of our staggered morning start.

Tomorrow we will once again ask

all parents and children to wait on the field

and we will bring in a year group at a time.

The teachers will hold up their year group signs when it is time for your children to come through to the playground.

We ask that all parents go directly to wait on the field in the morning and do not enter the staff car park or walk along the pavement to the side of the staff car park to get to the school - please take this into account if you need to leave a little longer to walk around to access the field in the morning.
Please wait on the field until you see your class teacher hold up your year group number. Parents and children can then come forward to the field gate.
We ask parents to clear the area promptly.
We will then use the same system to release the children in the afternoon, where we again ask parents to wait on the field until your year group sign is held up.

We hope this will alleviate some of the potential for cross over of parents and children. If any parents are running late and miss your child's year group entry, please do not come up the pavement as others will be exiting that way, but wait on the field until all year groups have come through and parents cleared the area, then you may come forward.

Thank you for your ongoing support.

Mrs White
Parent Survey 2018
Posted: Dec 7, 2018 by: office on: Brill Highlights
Thank you to all the parents who took the time to fill in our survey. We had a great response. Over 70 parents replied and 97% would recommend our school!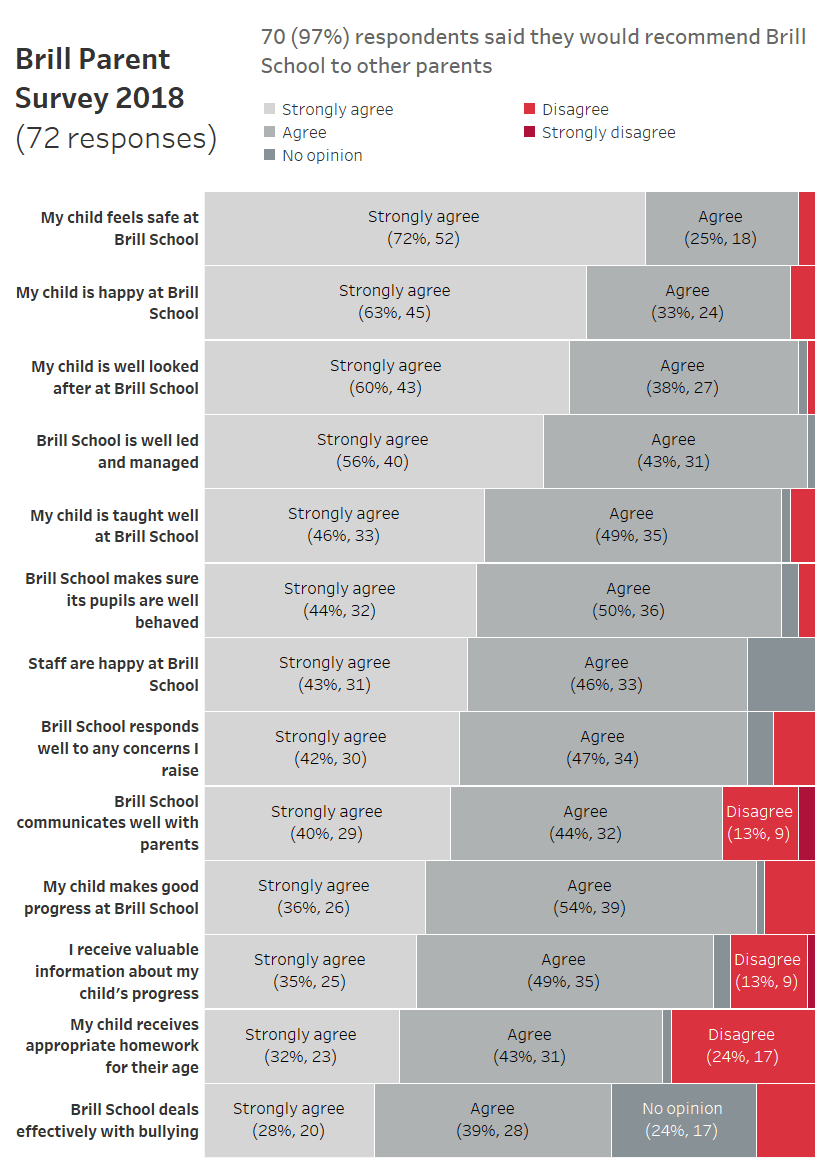 Your answers indicate that almost all of you are very happy with most of what we do. We are particularly pleased about the overwhelmingly positive response to questions about how happy, safe and well taught you feel your children are.
We had positive comments about changes made last year including:
Improvements in communication, especially the online booking system

The daily mile - you would like us to keep it going!

The improved safety of the school site

Regular guided reading
It's also very helpful to hear where you think we could improve. Four main themes came out of the suggestions this year:
1) Communication
Last year we made lots of improvements and you liked these. Some of you would like there to be fewer emails. We're trying to work out how to reduce these and communicate more using the website.
Some of you asked for more notice of events, particularly those that involve transporting children and anything with fancy dress! We have already sent you all the fancy dress dates for the year and staff are timetabling other events as early as they can. Some sports fixtures and other events are only organised with short notice but we hope you understand we want the children to be able to take part in as many as possible and do our best to tell you as soon as we know dates.
2) Children's progress
We hope you'll think the school's results speak for themselves, but we are going further to ensure children make rapid progress in core subjects. Classes will now be doing maths, guided reading, literacy and wizard maths in the mornings and the management team are reviewing every child's progress in science with their teachers half termly in the same way as we do for maths and literacy.
A few parents wanted to be sure their children were being stretched enough. Growth mindset is a big focus this year and will help pupils challenge themselves whatever level they are working at. To hear more, read about our priorities for 2018-2019.
Some parents want to understand their child's progress better. We had very positive feedback about the new format for parents' evening last year. This year we'll look at how we explain the way progress is communicated and make sure it's clear and useful.
3) Homework
This is a tricky one. 24% of respondents don't feel their children get age appropriate homework. What's difficult is that people disagree on whether it's too much or too little and on what type of homework would be best! We're having a think about homework and we plan a parent information evening and some other communications to explain our approach and how best to help children. Look out for a request from your parent council rep to tell us what you most want to know about.
4) Extra-curricular clubs and events
We had lots of positive feedback about the number of clubs and extracurricular events on offer.
Some of you want to understand more about how children are selected and how we make sure all get a fair chance to be involved. Staff try very hard to help all children take part in activities and keep a record of who attends what. We agree we could be clearer about how and why we select pupils in different ways for different events so children and parents understand. You'll soon get some information on the principles we use to select or encourage pupils to take part in different sports events.
You also asked us to consider more clubs like choir as well as all the sports clubs. We have listened and drama club is starting this term. Maths club is on the way and choir will be back. Can you help with this? Do you have a passion you could share with the children in a lunchtime or after school club? Chess? Gardening? Knitting?
Enormous thanks to all of you who took part. If you haven't seen the issue you raised in this summary, please be reassured we have taken account of all your comments.
Keep telling us what you think: your feedback and willingness to come and talk to us straight away with problems helps us get better. You can always talk to staff or to governors. You can also contact your parent council representative or even leave a comment on our news posts!