Admission Arrangements
Brill C of E School is an academy within Buckinghamshire and the Diocese of Oxford. The Governing Body is the admissions authority, and the authors of the Admission Arrangements. This has been designed to comply with the School Admissions Code 2014 (updates 2021) and all other relevant legislation including that on infant class sizes and equality.
The Published Admission Number for all year groups is 30.
The School participates in Buckinghamshire's Fair Access Protocol.
The admission arrangements for Reception (Foundation Stage) entry from September 2022 onwards, plus all other in-year admissions are detailed in the documents below. Applications for places in the Reception year for children should be made via the Buckinghamshire County Council Common Application Form (CAF), available in the Primary Guide or via the Bucks CC website.
Catchment area: The area which includes the parishes of Brill, Dorton and Chilton, bounded as shown on the map below. This can be viewed in more detail here.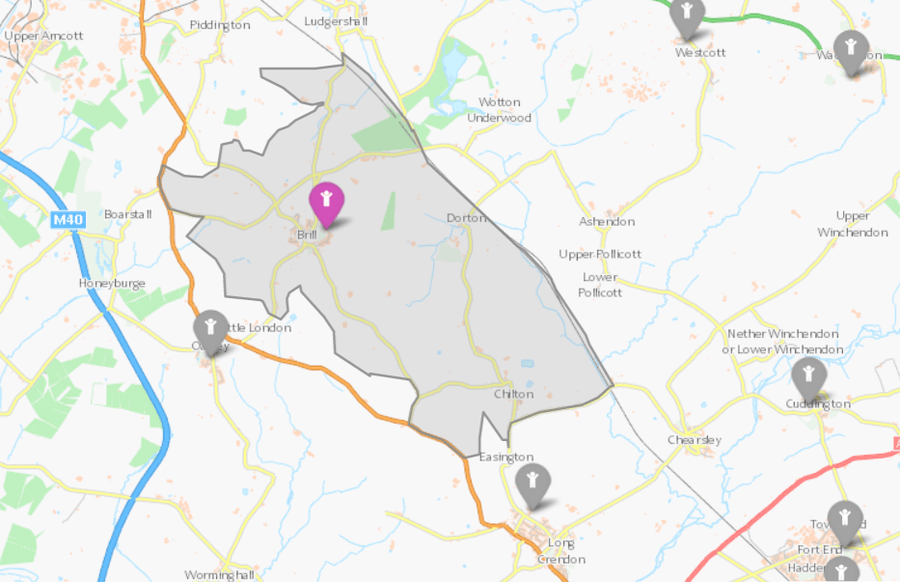 Appeals
Where an application for a place at the school is unsuccessful, parents have the right to appeal against the decision. (If you have been offered a place at another school then please first take the time to visit that school; you may find that it meets all your child's needs and that you would be happy for your child to go to that school). Should you wish to pursue an appeal then you must, in the first instance, click here to complete the 'Appeals Form'. Send the completed 'Appeals Form' to the school office either by emailing office@brillschool.org.uk, or by handing in a copy into the school office for the attention of the Admissions Panel. (To request a printed copy please contact the school office.)
Following receipt of this form, the school admissions panel will officially meet to discuss the grounds of this appeal, taking all given information into account. You will be notified in writing as to the outcome of this appeal within 5 days.
If you are unhappy with the result of the initial outcome, and wish to pursue this appeal further, you must notify Liz Cotgreave, Chair of Governors, of this in writing along with any extra evidence you would like to submit by emailing l.cotgreave@brillschool.org.uk. Your case will then be escalated to an external and independent admissions panel led by the Oxford Diocese.
It should be noted that, in the event of an unsuccessful appeal against non-admission the school, the school does not consider any further application in the same school year (1 September – 31 August), unless there has been a material change in circumstances, for example a change of address which results in a move from outside the catchment area to inside it.
You can expect to receive notification of your appeal and information related to the hearing according to the following timetable.
Secondary School Applications
Key dates
4 September 2021 - parents can start to apply.





31 October 2021 - closing date for applications.





1 March 2022 – National Allocation Day: letters (sent by second class post) and emails sent detailing the offer of a school place.





September 2022 – start of the school year.
Allocation day
Everyone who applies online by 31 October 2021 will receive an email in March 2022 advising which school their child has been offered a place at.
Important things to remember when applying
Apply on time, i.e. no later than 31 October 2021.

You can list six different schools in order of preference if you are applying through Buckinghamshire County Council and three different school preferences if you are applying from Oxfordshire county Council. We strongly advise you to use all three preferences.


It is the responsibility of parents/carers to apply for a school place.


We advise you to enter your catchment (or designated area) school as one of your preferences.



If your application is late, it will be processed later in the year, and you are far less likely to get a place at one of your preferred schools.
The closing date for Secondary School Application is 31 October 2021. The offer date for on-time applications is 1 March 2022.
Useful Links for Parents:
Contact Details for Admissions:
Buckinghamshire
Click on this link for School admissions | Buckinghamshire Council
Oxfordshire
Telephone Number: 0345 241 2487